Affiliate Link
Press Sample
L'Occitane has some amazing new products! If you love Shea Butter as a skincare ingredient, then you should certainly check these out. In the cold of Winter, nothing really hydrates and revives your skin quite like shea butter. It really is a wonder ingredient! So, lets discuss these
new shea-butter infused releases
: The
Limited Edition Shea Butter Balm
,
Shea Butter Comforting Oil
, and
Shea Butter Soothing Fluid
.
Celebrate International Women's Day with L'Occitane and their
Limited Edition Shea Butter Balm
:
International Women's Day is on March 8 and in honor of this day, L'Occitane is releasing a limited edition Shea Butter Balm to raise awareness for women's entrepreneurship worldwide.
Helping Women through Shea Butter Production:
Each balm will retail for $6 and 100% of proceeds will finance NGO projects for women's leadership in Burkina Faso. L'Occitane's relationship with the women of Burkina Faso goes back over thirty years and the connection is Shea butter. For the women of this region, harvesting Shea is more than just a job; it is special, symbolic tradition to pick the nuts off the Karite tree and churn them into the paste-like butter. Today, there are more than 17,000 women employed in the production of this miracle ingredient through fair trade cooperatives funded by L'Occitane. To build on this commitment, L'Occitane also promotes women's entrepreneurship in the region by offering literacy training, microcredit loans and savings programs.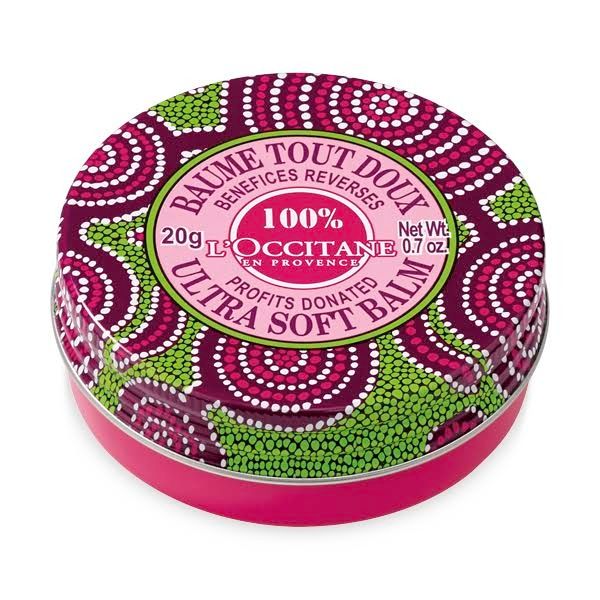 What a cute little tin with this amazing multi-tasking product inside! The small screw-top tin is super portable. You can toss this in your purse for on-the-go easily! The Shea Butter is exactly like the name states...ultra soft! Unlike other 100% Shea Butters that I have used in the past that are waxy and hard, this shea butter has a nice soft balm consistancy that makes it easy to use and spread. Just dip your fingers in and smooth this miracle product onto your skin. Plus, this Shea Butter has a lovely soft baby powder-like scent that is super nice!
Shea butter itself is such a miracle-working product! There are countless ways to use it!
Here are just a few:
Use as a lip balm to deeply moisturize
Mix with your hair conditioner for a deep, nourishing hair treatment
Apply to fading scars and burns to speed up healing time
Drop a few tablespoons in a hot bath for a moisturizing soak
Rub into chest when you have a cold for soothing comfort
Use as a cuticle balm for dry and rough or cracked cuticles
Smooth onto legs, arms, and any exposed skin to give the skin a lovely natural shine
How do you use Shea Butter in your beauty routine? Now that I have this little tin of multi-tasking Shea Butter, I am dying to learn more uses! Be sure to check out L'Occitane's
Limited Edition Shea Butter Ultra Soft Balm
! It supports such a great cause! :)
L'Occitane Shea Butter Comforting Oil and Shea Butter Soothing Fluid:
But wait, there is more! L'Occitane recently released these two shea-infused skincare products. These are the newest additions to L'Occcitane's best-selling Shea Butter skincare line. These products were formulated to alleviate dry and sensitive skin while providing protection from the elements and environmental skin stressors. These formulas are so soothing! The ingredients are pure. So, these products are ideal for sensitive skin (like mine!).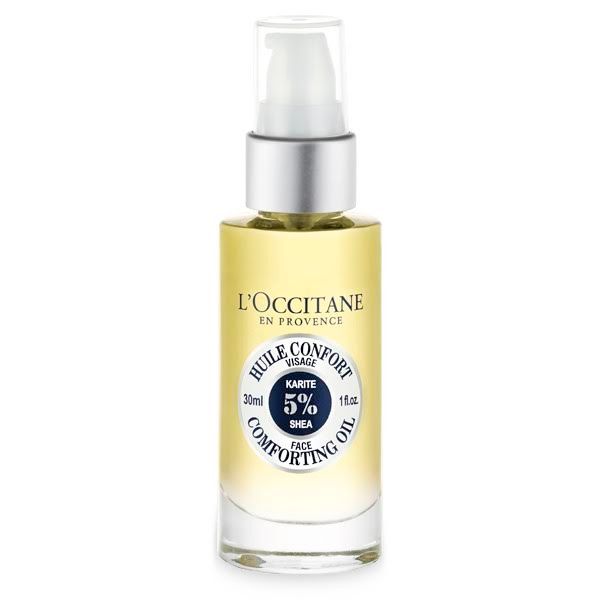 Shea Butter Comforting Oil:
Lets start with my favorite, the Shea Butter Comforting Oil. In the past year or so, I have become obsessed with using facial oils. After many years of avoiding oil like the plague because of having somewhat acne-prone skin, I have come to realize that a few drops of oil in my daily skincare routine can bring such radiance to my skin! This oil is so soothing and hydrating. My skin just drinks it in and looks so radiant after application! I use oils like this just as I would a serum. I apply after cleansing (and toning if I tone, I don't always) and before my moisturizer or sunscreen. I just apply about a drop to my fingertips and then tap and smooth onto my skin. This lightweight dry-finish oil sinks right in and does not leave me looking greasy. My only critique is that the pump style container makes it hard to get just one drop. I would prefer if this product had a dropper top. I adore this oil and highly recommend it!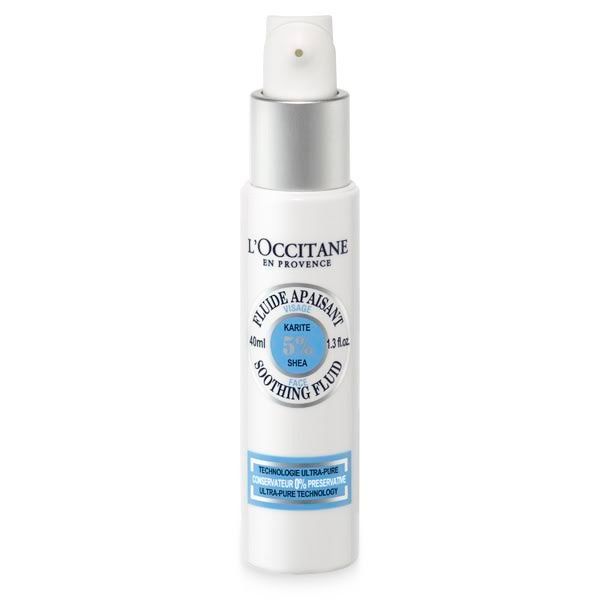 Shea Butter Soothing Fluid:
This Shea Butter Soothing Fluid is a product to replace your usual moisturizer. It is enriched with 5% Shea Butter for amazing hydration. It also contains rose hip oil and anti-inflammatory calendula oil (extracted from marigolds). This is a great moisturizer for dehydrated skin! It leaves my skin feeling super soft and hydrated. It pairs very nicely with the Shea Butter Comforting Oil.
All of these new Shea Butter-enriched products are great additions to a Winter skincare routine! Which of these items tempts you?
Thanks for reading!
XOXO
Affiliate Link