Affiliate Link
Press Sample/I bought it
It is time for another Makeup Wars! I am so glad to be diving back into a Makeup Wars challenge. It has been awhile. I must say, Makeup Wars posts are my favorite types of posts to write!
It has been a busy time for me lately. With a very active toddler and a preschooler, I am super busy during the day. I have to carve out blogging time when the kids are asleep (and balance that with my household chores and errands). After a bad cold and bronchitis, I have been behind on bloggy-things! So, it is nice to dive back into some blogging with this edition of Makeup Wars!
Downsizing my Makeup Collection and Eliminating Clutter:
In my downtime lately, I have been working hard to eliminate clutter and drastically reduce the size of my makeup collection. It has honestly been very refreshing to do a major purge. My goal is to only keep the products that I truly love in order to streamline my beauty routine and eliminate senseless clutter of items that I don't use often. So, even with that said, I still was able to come up with quite a few highlighters for this Makeup Wars (see, this just goes to show how much I needed to de-clutter...I still came up with 9 awesome options!). The nice thing is that most of these items are relatively new to my current collection. Yes, out with the old and in with the new! So, I am quite excited about using all of these beauties!
To find out more details about each of these Illuminating Products, please click "read more" below! :)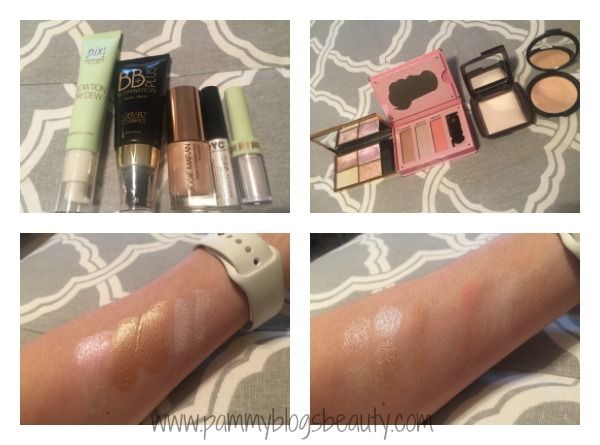 My Current Favorite Illuminators:
it Cosmetics | Hello Light Anti-Aging Illuminating Powder: As far as this assortment of products goes, this is the illuminator that I have been using the longest. It is one of the few illuminators that made the cut when I did my major makeup stash de-cluttering! I just could not part with it! it Cosmetics is one of my favorite makeup lines and I think that this is absolutely one of there stand out products. This product just gives your face the most beautiful and most etherial glow! Beautiful champagne toned luminescence without sparkle. I apply to tops of cheekbones, down center of nose, chin, and over brow. I honestly think that I will never be without this highlighter in my collection. It is a must-have!
essence | How to Make Your Face Glow Makeup Box: This is the newest highlighting product in my makeup collection! This month, essence launches their full Spring line at Target! How exciting. I have followed this brand for a long time and I am so happy to see the line expanding in the states and becoming more readily available. This palette is inexpensive and fun! It contains a silky bronzer, a shimmering highlighter, and a pretty blush. Great quality and inexpensive, too!
Gerard Cosmetics | BB+ Illumination Facial Creme: This versatile illuminating BB Creme has been in my makeup collection for awhile now and it is a total keeper! This gold tone illuminating creme can be used as a primer, as a mix-in for your foundation, or for spot highlighting on top of your makeup. I like to use it as an illuminating primer. It gives a gorgeous glow under a sheer-medium foundation.
Pixi Beauty | Glowtion Day Dew: I just adore this new product from Pixi Beauty! This subtle glowing moisturizer is a great way to illuminate your skin and give yourself that "lit from within" glow! You can use it under foundation as a glowing moisturizing step or dab it in key areas on top (how I like to use it). It is very versatile!
Sleek MakeUp | Highlighting Palette in Solstice: This is another beautiful new addition to my makeup collection. As the name states, the packaging sure is sleek! Better still...the product inside is fabulous! You get 4 highlighters: a metallic bronzy cream, a beautiful coppery powder, a gorgeous champagne, and a light shimmery vanilla shade. All of the shades are massively pigmented, pack in super shimmer, and apply beautifully. I like using these as eyelid highlighters. So pretty!
Josie Maran | Argan Elightenment Illuminizer: This is a versatile and highly pigmented illuminating concentrate. I like mixing in about 1/2 an pumps worth into my moisturizer or foundation for a glowing boost to my skin. Being from the Josie Maran line (which is based on the powerhouse ingredient Argan Oil) this product is enriched with the nourishing properties of Argan Oil. The warm toned champagne color is beautiful. It is slightly warm for my complexion when worn alone as a spot highlighter, but as a mix-in, it is beautiful!
hourglass | Ambient Lighting Powder in Ethereal Light: I absolutely adore this powder. It is truly a unique product in my collection. It is a luminous finishing powder. So, not a highlighter per-se but a powder that gives you a subtle, yet impactful, lit-from-within glow. It brings light to your face and honestly just makes you look like you have the best skin. I wear the Ethereal Light shade which works perfectly with my super fair complexion. I almost always get those "you have great skin" type compliments when I wear this. It just leaves you glowing...but in a subtle way! This product has reached cult status amongst the beauty community for a reason. It really is that good!
NYC | Sparkle Eye Dust: Have I mentioned lately that I love white eye shadow? Nothing beats a pop of shimmery white shadow in the inner eye corner to give your eyes a pop! This Sparkle Eye Dust from NYC is super inexpensive! I just just tap on a little bit from the applicator and apply it to the inner eye corner area.
Pixi | Fairy Dust in Snow Sparkle: I am a long-time fan of these pretty loose powder shadows from Pixi Beauty. Like the NYC Sparkle above, I also use this one as an inner eye corner sparkle option. Sometimes I like to layer this on the lid, too, for beautiful shimmer and highlight. These come in 8 shimmery shades and they are so fun to play with. Cute packaging, too!
What are some other great illuminators? Be sure to scroll through my fellow Makeup Wars bloggers' posts below! :) Happy reading!

Affiliate Link