Affiliate Link
Press Sample
This is History in the making...well, at least when it comes to Color of the Year! For the first time, the blending of two shades – Serenity and Rose Quartz – are chosen as the Pantone Colour of the Year! Pantone, an X-Rite company and the global authority on colour and provider of professional colour standards for the design industries... announced PANTONE 15-3919 Serenity and PANTONE 13-1520 Rose Quartz as the PANTONE® Colour of the Year selection for 2016; a harmonious pairing of inviting shades that embody a mind-set of tranquillity and inner peace.
As consumers seek mindfulness and well-being as an antidote to the stress of modern day lives, welcoming colours that psychologically fulfil the yearning for reassurance and security are becoming more prominent. Weightless and airy, like the expanse of the blue sky above us, Serenity comforts with a calming effect, bringing feelings of respite and relaxation even in turbulent times. Rose Quartz is a persuasive yet gentle tone that conveys compassion and a sense of composure.

"With the whole greater than its individual parts, joined together Serenity and Rose Quartz demonstrate an inherent balance between a warmer embracing rose tone and the cooler tranquil blue, reflecting connection and wellness as well as a soothing sense of order and peace," said Leatrice Eiseman, Executive Director of the Pantone Color Institute.

Serenity and Rose Quartz for Fashion
The combination of Serenity and Rose Quartz was featured on the runways for both men and women and highlighted in the PANTONE Fashion Colour Report Spring 2016 with Emilio Pucci, Leanne Marshall, BCBG and Richard James, among others who incorporated this harmonious colour pairing into their recent collections. Playful yet sophisticated, this colour duo makes a striking statement on its own, though it works equally well as an accent when joined with other shades. With playful escapism as a theme for many, the pairing of shades can be expressed through patterning, plaids, floral prints, striping and colour blocking. Variations of this hue will be seen in a variety of textures that make it wearable throughout the year, from warming and comforting plush wools and faux furs to more ethereal feeling, lightweight linens and cottons. Serenity and Rose Quartz are also a popular choice for jewellery and fashion accessories, including handbags, hats, footwear and wearable technology.

Serenity and Rose Quartz for Beauty
The pairing offers a variety of lip, cheek and eye palette options, as well as hues for nail colour. Flattering against many skin tones, beauty looks pairing the light-hearted, healthy glow of Rose Quartz, with the cool, refreshing tone of Serenity, create a soft and natural statement. Done with a natural, light touch, the flattering pink that enhances the lip, cheek and eye, can be blended with a hint of the cool blue tone that contributes to a beautiful, neutral-based eye shadow palette, accented by classic solid nails or creative nail art that incorporates both shades in the design. Juxtapose with neons for a bold and interesting contrast. Appealing in all finishes, matte, metallic and glossy, a layer of silver sparkle creates added drama.
About the PANTONE Colour of the Year
The Colour of the Year selection process requires thoughtful consideration and trend analysis. To arrive at the selection each year, Pantone's colour experts at the Pantone Color Institute comb the world looking for new colour influences. This can include the entertainment industry and films in production, traveling art collections and new artists, fashion, all areas of design, popular travel destinations, as well as new lifestyles, playstyles and socio-economic conditions. Influences may also stem from new technologies, materials, textures and effects that impact colour, relevant social media platforms and even up-coming sporting events that capture worldwide attention. For 16 years, Pantone's Colour of the Year has influenced product development and purchasing decisions in multiple industries, including fashion, home furnishings and industrial design, as well as product packaging and graphic design.

Are you guys excited as excited about this Serenity & Rose Quartz color combination as I am? I am already starting to see Serenity & Rose Quartz fashion and beauty displays when I am out shopping and the combination is so appealing! The colors are soft and beautiful to wear and really are soothing when combined.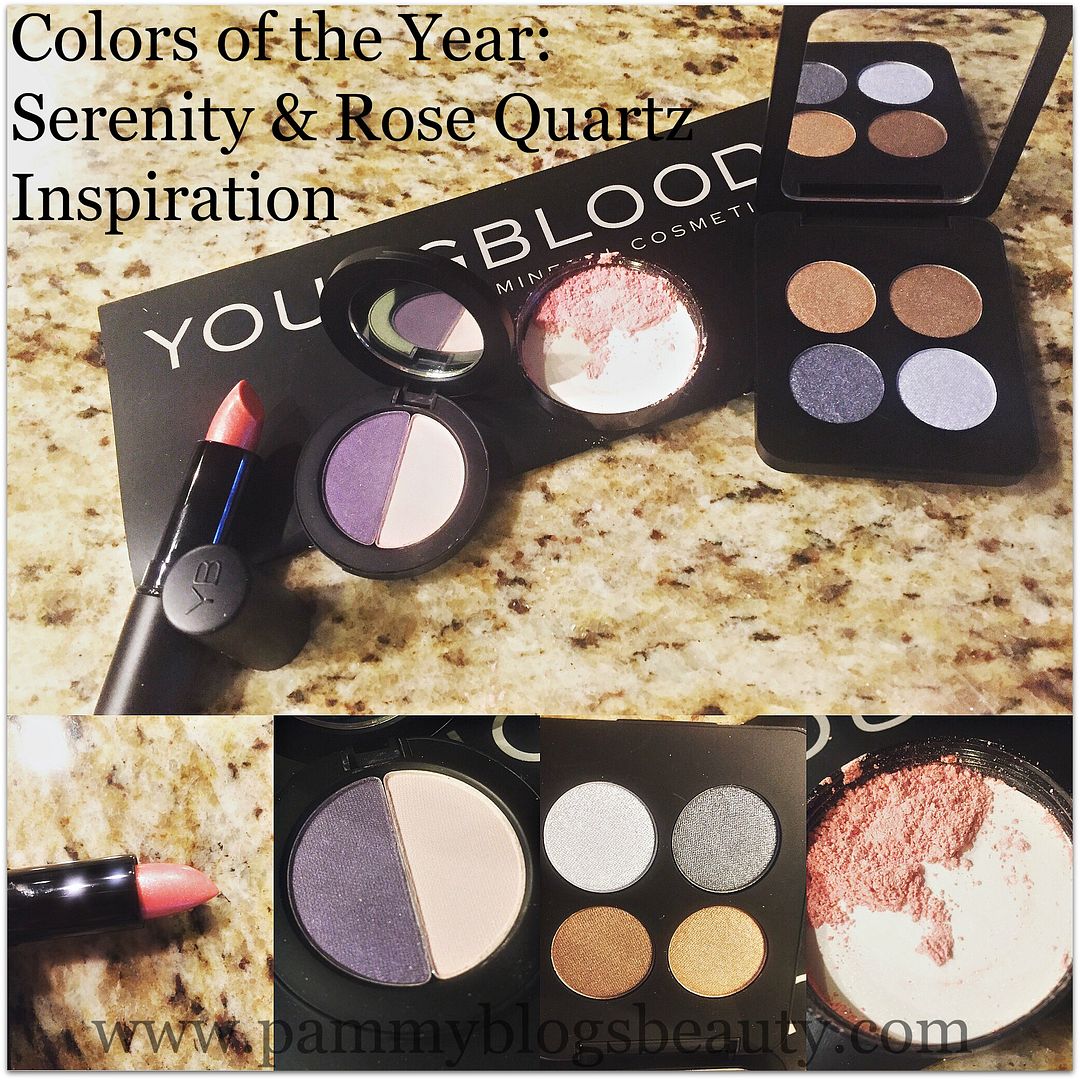 To read about some Color of the Year Makeup Inspirations from Youngblood Minerals and Hard Candy, please click "read more" below!
I have started to round up some Serenity & Rose Quartz combinations for your inspiration! These are just the first of the Serenity & Rose Quartz products that I have collected. I know that there will be more throughout the year! What are your favorite Serenity & Rose Quartz combinations? Any recommendations? I would love to hear!
Makeup Inspiration: Get Some Serenity & Rose Quartz shades with these:
Youngblood Minerals:
Youngblood Minerals has some excellent Serenity & Rose Quartz Options! Just check out my image above from Instagram. I have so much fun playing with this luxury mineral makeup line. Not only am I obcessed with their amazing Contour Palette (please be sure to check out my previous review!), but also I love their color cosmetics as well. Such pretty shades in Serenity & Rose Quartz!
Here are some Youngblood Items to Inspire you to create Serenity & Rose Quartz looks:
Crushed Mineral Blush in Tulip: This satin finish loose mineral powder blush is the perfect pop of pink. I especially love this shade on my skin in the Winter when I am super-duper fair.
Hard Candy:
I love finding fabulous drugstore options for makeup! If you have not explored Hard Candy, they really have such great quality for a phenomenal price. Hard Candy products are available at Walmart. Hard Candy has some really beautiful new palettes right in time for the New Year! These palettes contain a wide assortment of shades including Serenity & Rose Quartz options.
NEW Glitteratzi Palettes: Add some dazzle anywhere! These multi-use shimmering glitters come in a non-sticky clear base, glide on, and set. Wear alone or mix and match! These palettes are gorgeous!!! There are two available: Call Me Sparkle and Center of Attention. There are some lovely blue and pink glitters as well as other shades, too. For $6.00 a piece, these are a great deal.
NEW Shadow-Spheres Palettes: This portable eye shadow palette collection includes a range of 10 coordinated hues in each palette plus a mirror and two applicators for on-the-go application. Baked shadows can be used wet or dry for buildable intensity. Dark shades can be used wet as eyeliner to achieve a sultry smoky effect. There are three available: Light n' Night, Nudes n' Roses, and My Bright Life. Such a beautiful assortment of shades including nice options for Serenity & Rose Quartz shadow looks! These retail for $8.00 each.
Affiliate Link