Sponsored Post
Affiliate Link
Max Studio Summer Sale:
The
Max Studio's Summer Sale
is happening now with savings up to 50% off this Summer's hottest styles! (Sale begins today, June 11th).
Romance Season Shopping:
Yes, Summer certainly is the season for Weddings...but, it is not just Wedding Season! Every girl deserves a bit of romance and some pretty outfits to fit her mood! I do tend to dress with a bit more of a romantic flare in Summers. Gone are the heavy fabrics of Winter, I want sundresses, light flowly fabrics, beautiful prints, and inspiring color. I want to look effortless. Yet, I also want to look put together, beautiful, and feminine.
Max Studio is a great place to look for your fun and flirty Romance Season shopping! An inspired mash up of tradition and modernity has made the Leon Max Collection a go-to brand for It girls such as Zooey Deschannel, January Jones, Sarah Jessica Parker, and Olivia Wilde. Beading, Embroidery, and original prints add sparkle to subtlety on designs that effortlessly translate from office sophistication to evening playfulness.
Date Night Outfit Ideas and My Max Studio Virtual Haul:
This awesome Max Studio sale inspired me to create an idea board for a date night! Date night is my biggest excuse to get dressed up! I am drawn to the Max Studio line because of the combination of clean lines and feminine sensibility. I like the fusion of sophistication with flirtatiousness and even a laid back vibe. The constantly evolving Leon Max Max Studio collections, designed across three studios in Los Angeles, London, and New York, keeps fans on their toes and their wardrobes complete with the flirty tops, romantic dresses, maxi dresses, pants, outerwear, footwear, and more.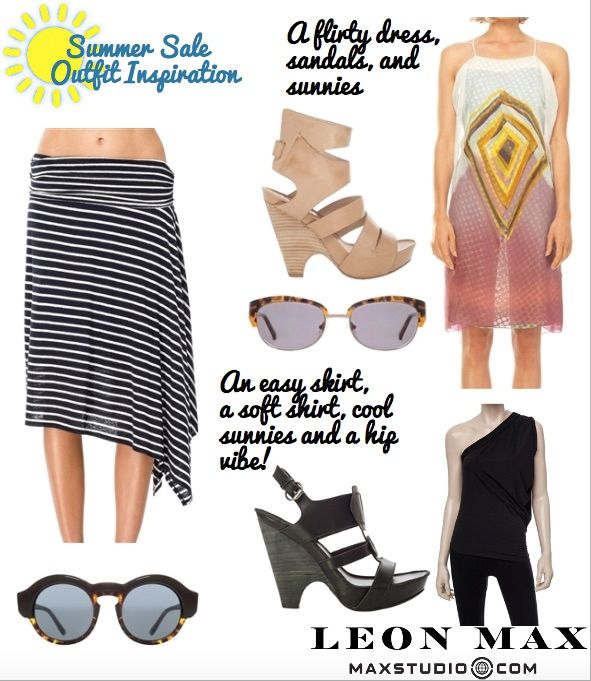 So, those are my date night outfit ideas and inspirations from Max Studio! Don't miss out on this awesome Summer Sale! No code necessary, prices reflect discount.
Be sure to follow Max Studio on Social Media:
#maxstudio
#leonmax
#fashionismaxstudio
Affiliate Link