Affiliate Link
Press Sample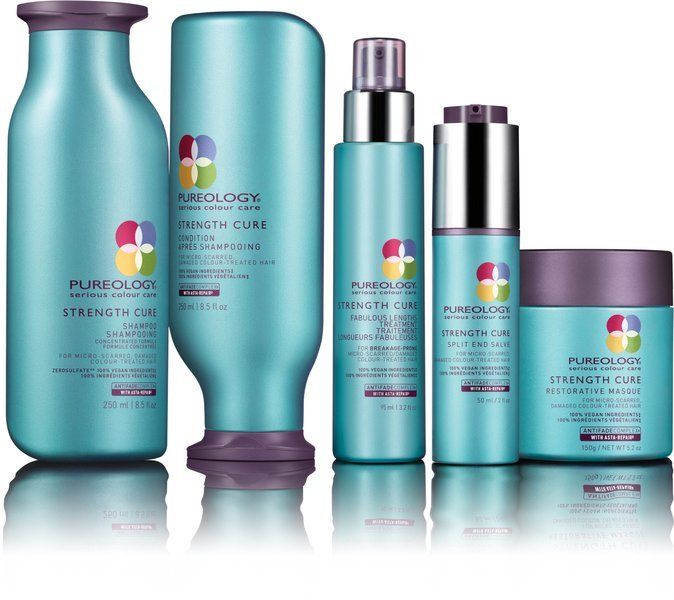 I really try to pride myself with taking good care of my hair. Through the use of good products, I am able to grow my hair very long while also getting highlights. Even with my best efforts, sometimes I end up with some damage after getting highlights. Recently, I went much brighter and heavier with my blonde highlights for the Spring/Summer season (annually, I tend to go much brighter in the Spring/Summer). The result? Beautiful highlights...and some damage. As much as I loved the color of my hair, the texture felt rough and dry. I want my hair to be silky and soft. Sigh!
Pureology knows that 74% of women who visit a salon cite damage as one of their key complaintsi. Colour treated hair not only endures mechanical damage, but also micro-scarred damage resulting from the penetration of colour pigments during processing. To combat damaged/microscarred colour-treated hair, Pureology is excited to introduce Strength Cure, the first comprehensive reparative haircare system that can be customized to ensure the perfect balance of internal strength and velvety softness. In fact, 97% saw improved hair strength after only one use!
The Strength Cure system uses Asta-Repair™ to heal, strengthen, and protect from colour oxidation. Asta-Repair™ features, Astaxanthin, the ultimate nature-derived antioxidant, coupled with our unique AntiFade Complex***iii, which helps to ensure colour preservation, even in the weakest hair fibers. Astaxanthin is one of the most powerful carotenoids, with up to 500x the antioxidant action of Vitamin E, and 10x more powerful than beta carotene. Keravis, Ceramide and Arginine, also found in the Asta- Repair™ system, help replace the depleted cysteine content inside the cortex, while also helping to heal the micro-scarred cuticle to restore a velvet touch. The fully customizable system includes products that will help cover all needs from gently detangling to fortifying mid-lengths and mending split ends.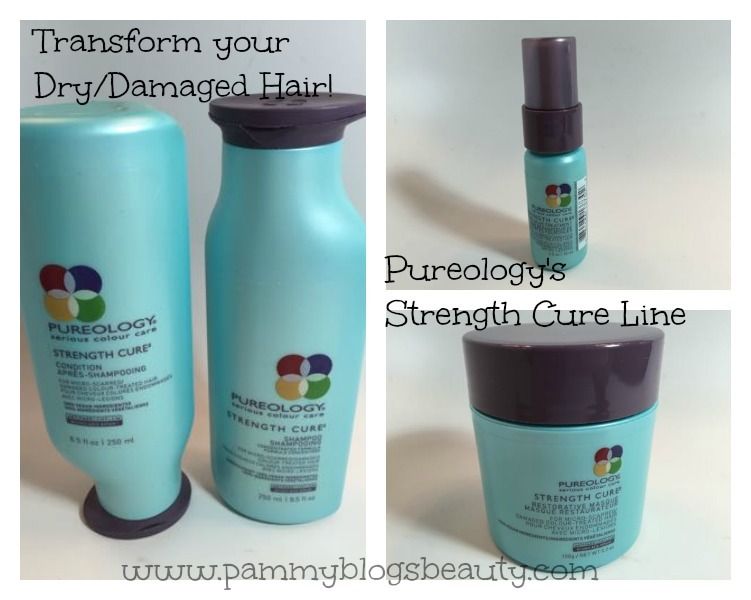 To find out more details about each of these products and how they transformed my hair, please click "read more" below! :)
Purelogy® Strength Cure™ Shampoo:
Gentle formula cleanses and helps fortify hair with a soft finish.
This shampoo is ultra thick, rich, and nourishing. I find that it is very concentrated and you do not need a ton of product to get your hair clean. Purelogy® Strength Cure™ Shampoo - 8,5oz - $27
Purelogy® Strength Cure™ Condition:
Opulent formula instantly conditions and detangles, improving hair's touch and light reflection.
This conditioner is the perfect counterpart to the shampoo. It is rich and thick and leaves my hair soft, manageable, and shiny. Purelogy® Strength Cure™ Condition - 8,5oz - $29
Purelogy® Strength Cure™ Masque:
Lush conditioning masque intensely fortifies and helps reduce breakage for increased strength and shine.
I am absolutely obsessed with this hair mask! Since my hair is damaged, I use this every/other shampoo. It literally transforms my hair and leaves it so nourished and healthy-looking! Purelogy® Strength Cure™ Masque - 5,2oz - $5
Purelogy® Strength Cure™ Split End Salve:
Strengthening salve with high concentration of coconut oil penetrates the hair and coats the surface, softening and conditioning your most porous ends.
My ends are the driest part of my hair. I like smoothing this on to give extra condition to the ends. Purelogy® Strength Cure™ Split End Salve - 1,7oz - $28
The combined use of all of the
Purelogy® Strength Cure™
products
together has absolutely transformed my hair! My dry/damaged highlighted hair has turned into soft, manageable, and shiny hair. I am absolutely floored and just love these products!!! I find that my hair is not only soft to the touch and shiny, but also it is much easier to comb and style. Plus, I feel that these products make my highlights look "brighter" if that makes sense, possibly because it looks so shiny? There is no question that continued use of these products has brought my hair into better condition. Oh, and can I just mention, the scent is to-die-for! It is a creamy and comforting scent. I can't quite place it...almonds and cream maybe? These products start working after just one use and continued use keeps my hair looking great! My hair is stronger and shiny and manageable. What is not to love about that! :)
If you have color treated, damaged, or highlighted hair, I completely recommend this line. Be sure to check out the Purelogy® Strength Cure™ Line!
Affiliate Link