Affiliate Link
Press Sample

I have a new skincare addiction:
Kate Somerville's Clinic-to-Go Resurfacing Peel Pads
! Peel pads are a relatively new addition to my skincare routine. I would say that I have been using various brands of peel pads for just over a year or so, and I am completely hooked. My skin NEEDS the deep exfoliation that I can only get with an at-home peel pad type product. They keep my skin clear while providing the anti-aging benefits that a great peel provides.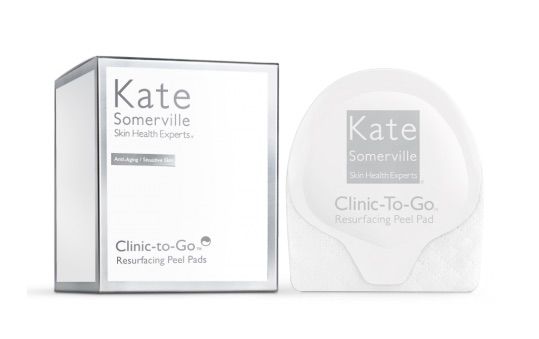 With my general love of peel pads, I was super excited to try out
Kate Somerville's Clinic-To-Go Resurfacing Peel Pads
! Kate Somerville is one of my top 5 Skincare Brands! I completely and utterly trust Kate Somerville's products to be effective. It is this simple: I get amazing results when I use Kate Somerville products.
Kate Somerville's Clinic-to-Go Peel Pads
literally give you a facial in just 2 minutes! Now, everyone has 2 extra minutes in their nighttime routine, right?! They are just so quick and easy to use and so effective. What is not to love?
My Skin:
Before diving into details about this awesome product, let me give ya'll a little more info on my skin. I am 40 years old and have sensitive combination skin. I am combo-dry in the cold months and combo-oily in the warmer months. I am fighting both breakouts and wrinkles at this phase in life. I do not break out that often, but do get 1-2 spots per month (typically around nose and chin area) depending on my skincare routine. I find that good skincare products can eliminate me breaking out (so, no breakouts if I am on top of my skincare routine). I have no major wrinkles yet, but do have some fine lines around my eyes and mouth (that really only are apparent when my skin is a bit dehydrated). My biggest skincare complaint? My super dark under eye circles. Sigh!
Latic Acid naturally exfoliates and softens skin, diminishing the appearance of pores and helping to brighten the skin in just 28 days.
Soothing Myrtle and Sage Leaf Extract calms and conditions.
How to Use:
These Peel-to-Go pads are individually wrapped, single-use buffing pads. Used twice weekly (sometimes I use twice weekly, but often I honestly get the same results with my skin with 1x per week use), these pads promote cellular turnover and reduce the appearance of lines and wrinkles while also keeping your skin clear. To use, just place your fingers in the little pocket of the pad and peel off the seal to expose the product. Gently buff the pad in gentle circular motions on clean and dry skin. This is my 2nd step in my skincare routine after a gentle cleanser. Leave product on for 2 minutes and then rinse. Easy peasy...and so quick! I can feel this product going to work with a slight tingle (ever so slight and not at all uncomfortable). My skin is sensitive and these pads still work for me! My skin is ever-so-slightly flushed for a few minutes after use (but that goes down in just a few minutes). After rinsing off this product, I follow up with a night cream.
My Results:
These
Clinic-To-Go Peel Pads from Kate Somerville
work wonders on my skin! Weekly use (1-2x per week) has refined my pores, decreased my breakouts, made my fine lines less apparent, diminished the appearance of my pores, and has left my skin ultra soft and smooth. Plus, I know that with the awesome exfoliation that I get from these Clinic-to-Go Peel Pads, my skincare products are sinking in better and are more effective! I absolutely love this product and highly recommend it!!!
There are so many products that I love from Kate Somerville! Here are some of my other favorites:
Affiliate Link