I Bought It
Press Sample
Affiliate Link
Blogger Ambassador
Ever wonder what a Beauty Blogger keeps in her handbag? Only the best beauty and on-the-go essentials, right (for me it is that and a whole lot more, lol)? Well, the Beauty Spotlight Team has been taking turns every/other week sharing what we have in our purses. This week it is my turn!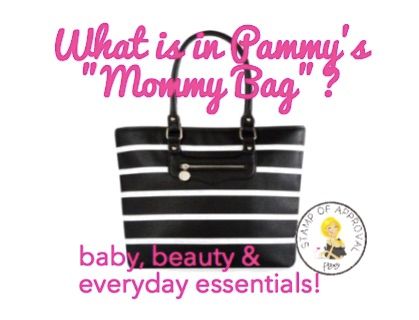 About Me: What would I need in my purse?
A woman's day-to-day life pretty much dictates what she carries around in her bag. For a girl like me, my bag is full of on-the-go essentials for a busy Mom of a 14-month old and a 3-year old. My days and weeks are packed with play dates, preschool events, grocery shopping, YMCA/gym time, swim lessons, park-time, carpool lines, ballet lessons, Mommy-and-Me story times, family time, lunches with Grandma and kids, MOMS Club events, MOPS events/meetings, whew...I feel busy even just writing all of this!
How did I decide upon my Mommy bag?
Some Moms carry a purse and a diaper bag. I have found, through trial and error, that my best bet is to go with one huge bag that carries everything. Sure, I sometimes default to your standard diaper bag. However, I find that an inexpensive and trendy large tote-style purse is so much more chic! I can fit all that I need for my baby boy, my active preschooler, and myself...while still looking stylish. Us Mommies carry around a LOT of stuff, lol! I find that another "key" with this method is to go with an inexpensive bag. There will be spills (sippy cups, snacks, etc) and you might even end up toting away a dirty diaper or clothes from time-to-time...so, why mess up a pricey designer bag? Go with an inexpensive one and you won't be sorry.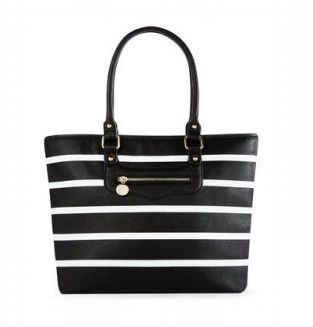 The bag I am carrying right now is the
Ethan striped tote in black from JustFab
. I absolutely love it! If you haven't checked out
JustFab
, they are a great source for inexpensive shoes, handbags, accessories, and now even a full clothing line! You can shop the full look from head-to-toe or browse individual items. Shoes and Handbags start at $39.95 and clothing starts at $9.95. When you join as a VIP you get the option to purchase items monthly from a personal boutique created with your style in mind, or can skip the month if you don't feel like spending.
Let's dig right into my purse, shall we ya'll? What does a busy Mommy Beauty Blogger carry around? I am going to go over everything! First we can talk Mommy Essentials and then I will go over all of my beauty items! :) Click "read more" below to hear more!
Let's peek inside, shall we? What am I carrying at the moment? In a nutshell, all of my on-the-go essentials for me, my baby boy, and my busy preschooler! So, yes, lots of kid items and convenience items. But, hey, there is stuff for me, too! Let me tell ya'll, I am no stranger to huge handbags. Even before I had kids, I had a tendency to carry around a ton of stuff. Some of my bigger chunks of "down time" during the day are spent out-and-about waiting...carpool lines, waiting at ballet lessons, etc...what a great time to play out with some of the beauty items that I am testing out, right? I am always applying lipbalms and hand creams in the carpool line. What a great time for some testing! :)
Inside my Bag:
I think the best way to go through this is to bullet point the items. I am going to divide them by kid items and Mommy items. We can discuss some things in more depth and some items I am just going to list. I am going to be real here ya'll...these are the items that I really am carrying right now. I am sure that I will find that I need to clean out my purse after doing this post and realizing that I carry way too much stuff (cough, lip products, cough, lol!)

Kid Stuff:
Kid Snacks and Drinks: Fruit Snacks, Fruities, Goldfish: Um, have I mentioned lately that I want to buy stock in fruit snacks? My kids love them and they are great for on-the-go. Traveling with snacks for your kids is essential!!! It can really buy you time when you need an extra five minutes to complete your errands with hungry kids. My preschooler tends to eat/drink Fruit Snacks, Rasins, Fruities, Goldfish, Cereal, and water mixed with juice when on-the -go with me. My baby likes Fruities, Cereal, and Goldfish on-the-go as well as Whole Milk or Water.
Diapers and Wipes for the little one (plus trash bags, hand sanitizer, and changing pad). I keep all of this in a handy diaper pouch.
Change of Clothes for my "big girl": My daughter potty trained a few months ago. While we have never had an accident while out-and-about, I still want to be prepared "just in case" with a change of clothes for her. I keep it all in a big ziplock. I transfer these in and out of my kids school/church/MOPS bags (so they are not pictured here). I don't always carry these...but, I usually do.
SPF for kids/babies: This is essential in the Georgia sun! I love Aveeno baby products...especially the SPF (so safe and gentle) and the Baby Eczema line which I use on my baby boy who has Eczema. It has made such a difference!
Toys: I don't cart around a ton of toys, but having things to keep your kids busy while waiting or at restaurants is essential! I have a little bag with small toys, books, and coloring supplies.
Mommy Stuff and Misc:
Wallet: I am still carrying my Michael Kors wallet. I tend to stick with a wallet for a few years.
Phone: just got the iPhone 6. I can't live without it!
Makeup Bag: I use old ipsy bags for my makeup and other essentials in my purse. Anything left "loose" will just fall to the bottom of my bag. These little zipper bags keep me organized. Inside the bag? TONS of lippies! (more about what is inside below)
Beauty Bag #2: This holds my "scents": usually a small body spray/fragrance mist (right now it is Honeysuckle Amore from Bath and Body works), my monthly Scentbird Fragrance (I LOVE this monthly fragrance subscription), and a hand lotion (Bath and Body Works Cashmere Mist).
Snacks: If the kids get snacks on the go, I do to, lol! I usually have a granola bar or energy bar on hand.
Umbrella: I have the smallest folding umbrella ever that fits right inside one of the "phone" pockets in this bag!
Sunglasses: I go back and forth between my Prada ones and my trusty Maui Jims.
Brush: OMG! This folding hairbrush is literally like 20 years old. It is an old Clinique GWP. I lost it for awhile and then found it recently. I am so glad it is back in its place in my handbag. I mean, I have carried it for like 20 years, lol! If this brush cold talk...
Tissues: Princess ones of course!
Antibacterial Hand Gel: I do need to carry multiple little bottles of these. Gotta keep those hands clean!
The "Mommy Hook": Basically, this is a large Caribeaner (?) style clip that turns ANY handbag or tote into a stroller-friendly diaper bag! Just hook this onto the grocery cart or your stroller and you will be hands-free with your bag! I adore this!!! I keep it in the inside pocket of my handbag.
SPF for me: I carry both facial and body SPF for me. I don't want to get on my soapbox here...but, I lost a dear friend to Melanoma and my Dad has Carcinomas removed practically monthly. Since I inherited his fair complexion, I don't mess around when it comes to sun protection. Currently, I am carrying Aveeno's Protect + Hydrate Lotion Sunscreen SPF 30 (this actually works well for face and body). It is one of my favorites and a total staple for me for everyday wear (I would go up to a higher SPF poolside). For my face, I am loving and carrying Neutrogena's Oil Free Moisture with Sunscreen moisturizer with SPF 35. I love how this lotion feels and wears on my face. It gives great sun protection and moisture!
Dove Dry Spray Deodorant: Is it funny/strange that I carry deodorant? What can I say, it gets hot and sweaty here in GA and I don't like to stink, lol! I am obsessed with Dove's new Dry Spray Deodorants. I find Dove Deodorants to be so gentle. Plus, I feel instantly "clean" when I apply this...even if it is mid-day for a refresher.
Inside my Makeup Bag:
Since this is a beauty blog, I feel like I need to devote some extra attention to the beauty items that I carry! Here are the details about what I carry around beauty-wise:
OMG! Can you believe how much I stuff into this sleek bag??? Who knew! Yes, I do feel the need to eliminate a few things....but, honestly, this has been working for me, so why not carry around what I need? Right? Please tell me that some of you out there carry around as much as I do? Hope you got some great product ideas from this post! :) Love ya'll!!! xoxo
Affiliate Link