Affiliate Link
Press Sample

Happy Friday!!! It is time for a Fab Fast Friday post! This blog series is where I give you the quick scoop on stand-out products that I am loving lately!
O.M.G...so, I have just discovered Rituals. This is a line completely deserving of more buzz and blog-love! Ya'll know that I am all about decadent body product treats. Well, this scrub totally gives you a spa-like experience in your own shower. Rituals is based on the ancient medical science of Ayurveda. It is an ancient practice that focuses on a holistic lifestyle with a balanced mind, body, and soul. Now, honestly, who doesn't want that! :)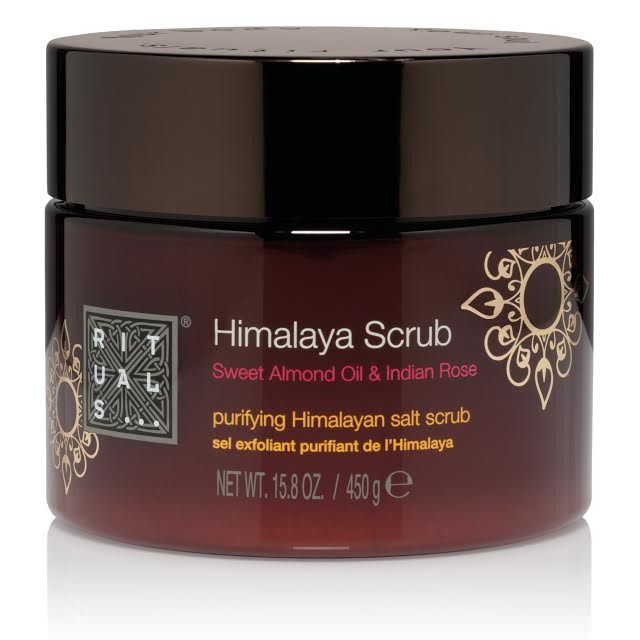 The Scoop:
I tried out the Himalaya Scrub which is a purifying Himalayan salt scrub with sweet almond oil and Indian rose.
The Himalaya scent is completely intoxicating! I honestly wish that I could even describe it...it is herbal and rich with a menthol undertone. The Rituals Body Scrubs come in four scents: Good Luck Scrub, Himalaya Scrub, Sakura Scrub, and Hammam Hot Scrub. I am amazed at how this scent lingers after your shower. I literally can smell it on myself hours later. Amazing!!!
This scrub gives you a minty feeling on your skin upon application (a menthol-type cool sensation). This sensation lasts even beyond the shower! Great for sore muscles or skin in need of refreshment and pampering.
This scrub is a salt in an oily base type scrub. It will leave your skin feeling a little bit oily...yet, also super soft and hydrated. Great for dry winter skin!
These scrubs retail for $29.00 for a huge 15.8 oz tub. A little goes a long way. So, this tub will last a long time.
This
Rituals Himalaya Scrub
is my introduction to the Rituals line and I must say, I am more than a bit obcessed. I can't wait to explore this line further. Are there any Rituals fanatics out there? I would love to hear about what you recommend from this amazing luxury line!
Affiliate Link