I Bought It
Affiliate Link
Press Sample
It is time for a very special Makeup Wars: This week we are featuring "Drugstore Brand Wars"! I am so excited about this edition of Makeup Wars!!! As much as I love my high end cosmetics and products, nothing beats a great bargain. Drugstore makeup really does excite me. Especially when the quality of the product is just as good, if not better, than my beloved high-end makeup. I love hearing about fabulous hidden gems in the drugstore. It really is a thrill to discover these! So, not only is this post fun to write, but also I can't wait to read (and take notes!) on all of the drugstore makeup that my fellow Makeup Wars bloggers are using and loving.
When we started discussing this edition of Makeup Wars, there was no question in my mind that I wanted to feature COVERGIRL. I have deep-rooted brand loyalty to COVERGIRL. It was the first makeup that I ever tried as a teenager and I continue to love it to this day! The great thing about COVERGIRL is that they are constantly coming out with new products. Part of the "fun" of drugstore makeup shopping is browsing through those displays of new products, right?!?! Well, I have had so much fun playing with all of these new and recentlu released COVERGIRL products! So, I am going to share some of my favorites from COVERGIRL's new products!
Foundations/Face Products:
As I mentioned, I have been using COVERGIRL products since I was a teenager. My go-to drugstore foundations are always COVERGIRL. I just tend to gravitate towards this brand. They have a ton of new foundations! Here are some of my favorites...
Ultrasmooth Foundation
:
It always excites me when COVERGIRL releases a brand new foundation! This is their newest one! This new Ultrasmooth foundation is formulated with Olay serum and "optical concealers" to smooth away redness, blemishes, and unevenness. Also, it is designed to help hide or disguise the appearance of facial hair (really!). It comes with a rubbery silicone applicator. I did initially try to apply this foundation with the applicator. However, I much prefer using my fingers or a foundation brush to apply this foundation. I felt like I couldn't blend it out all the way with the applicator (like it was just sliding the product around my skin). I wear Classic Ivory #810 in this foundation. It is a pretty close match (just ever-so-slightly too dark, which is a common issue for me with my ultra fair/near porcelain skin tone). I feel like this foundation gives me medium coverage with a very natural finish (not overly dewy nor overly matte) and extended wear (all day wear!). This foundation works well to even out my skintone while still letting my natural skin show through.
Ready Set Gorgeous Foundation
:
I love the lightweight feel of this foundation! This oil-free foundation has medium/buildable coverage and a demi-matte finish. I get nice coverage with this foundation while still achieving an overall natural look. It is formulated with a built-in "powder system" that works to absorb oil away from your face. I am Classic Ivory #105 in this foundation (like the Ultrasmooth, it is just a tad too dark, but totally workable considering my uber-fair skin). I do like the oil-control abilities of this foundation. I feel like I am able to stay matte longer when I wear this. Overall, I think that the Ultrasmooth Foundation and this Ready Set Gorgeous Foundation are quite similar...they just have different finishes and might cater more towards different skin types (e.g., if you are oily, I recommend Ready Set Gorgeous, and if you are more dry then go for the Ultrasmooth foundation...with my combo skin, I can wear either depending on how oily I am at the time and if I want a matte or semi-dewy finish).
Ready Set Gorgeous Concealer
:
This has actually been my go-to face concealer for the past few months! While I need a heavier concealer for my dark under eye circles, this concealer works great for covering slight redness around my nose and on my chin. I literally use it every day! The Fair shade is a perfect match to my skintone. I really do enjoy the lightweight feel. Plus, I know that I can apply it confidently and know that it won't clog my pores...especially since I apply it directly to the area that I am generally more prone to breaking out.
Mascaras:
Lets talk COVERGIRL Mascaras! COVERGIRL Mascaras are my hands-down favorites...not just at the drugstore, but across the board!!! Nothing works better on my lashes than the various LASHBLAST formulas. With my sensitive eyes and allergies, my eyes are prone to tearing. However, COVERGIRL mascaras never smudge nor smear on me. That is a huge feat! They all work great and there are subtle differences in the formulas. They also never seem to clump and give such great separation while also giving me gorgeous volume. I am a huge fan of the rubberized mascara wand which all LASHBLAST mascaras feature.
NEW Full Lash Bloom Mascara by LASHBLAST:
This is COVERGIRL's newest LASHBLAST mascara. Can we just take a moment to swoon for the packaging? Hello, it is pink with a flower. Totally girlie and totally "me"! lol! Cuteness aside, it is a really fabulous formula and brush! You get awesome fullness with lashes that stay "soft-to-the-touch". The effect is a bit more dramatic and bold than the Clump Crusher mascara (which is another fave, see below!). I love my lashes with this mascara on!
Clump Crusher Mascara by LASHBLAST
:
Here is another everyday favorite of mine! This mascara does exactly what it says...it doesn't clump! After all, when it comes to your everyday mascara, do you want to be dealing with clumps? Nope! Not me! ;) Even with multiple coats, this mascara remains clump-free. It also gives gorgeous volume and lash definition. If you want a super dramatic look, you are not going to get that with this mascara. However, for everyday defined lashes, this mascara is perfect! This is a gorgeous everyday mascara...and I do just that...I wear it everyday! :)
XL Nail Gel:
You can get the thick and shiny gel polish look with this formula...without the light! I get great wear from COVERGIRL polishes and I love the fun color selection, too! Plus, they are so affordable. :) I like the square bottle shape (easy to grip) and the wide brush (great for easy application). The pigmentation is very nice. I get great coverage in two coats. Now, I don't quite get the effect of true gel (with a light) polish with these. However, the wear is very impressive! I can get up to a week of wear with minimal touch ups (this is when I use a base and topcoat as well). That is very long wear for me and considering how much I wash my hands (hey, I have a baby in diapers...so, you can imagine that is a lot of hand washing, lol!). I hope they expand this line further and come out with even more shades!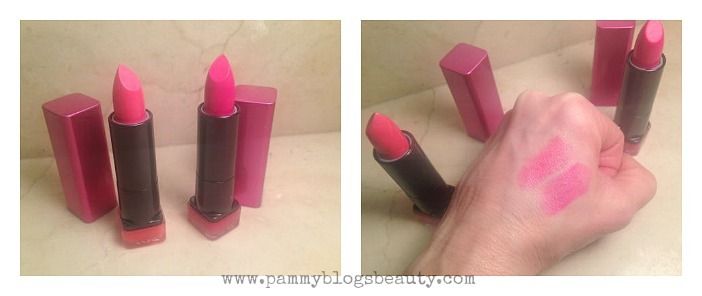 Lippies:
COVERGIRL New for Spring 2015 Coloricious Lipsticks
!!!
COVERGIRL is expanding their Coloricious line to include a beautiful assortment of Reds, Pinks, Nudes, and Plum lipsticks! Have you seen the new displays? I have tried out a few lippies from this line and am super excited to try more shades in the future! So far, I am loving #405 Temptress Rose (a somewhat bright medium cool toned pink: so wearable for my coloring!) and #425 Bombshell Pink (a bold fuschia). I don't know if it is just being in the midst of winter or what, but I am just craving bright and vibrant lips lately and these deliver such great color! I really adore the packaging of these lippies. The outer tube cover matches the general shade family (so, pink lipsticks come with pink outer packaging, red with red, etc). The bottom of the lipstick has a clear cube with the shade info printed and a plastic shade swatch: so you can determine the shade inside. I think this type of packaging is great not only for when you are shopping for shades, but also for storage! I love just being able to glance at my lippies to grab the shade I want! The Coloricious lipsticks lay down good color while going on and they glide on smooth. They feel somewhat hydrating but are not overly moisturizing. I get really long-wear color with these lippies! Even when the shine has worn off, the color color left behind is almost like a lipstain at the end of the day. Love these!
Shop the Post:
Be sure to check out my fellow Makeup Wars blogger's picks for their favorite Drugstore brands:
Affiliate Link