Affiliate Link
Press Sample
It is time for another Makeup War! This time, we are doing things a bit different! The Makeup Wars team of bloggers are all trying out the same amazing palette and brushes from one of our collective favorite brands: It Cosmetics!
See how this It Cosmetics CC+ Radiance Palette and Brushes Work! Across Skin Tones and Types:
What is extra special and unique about that? The Makeup Wars bloggers are a diverse group. You are going to be able to see and or hear about how this palette and the brushes work for a wide variety of skin types and skin tones.
My Skin:
So, what is my skin tone and type you ask? I have super duper fair skin. I am usually the very lightest shade in foundation (if it even comes that light!). I am neutral-cool toned. My skin is what I call "classic combo" skin. I am normal-dry in the cold weather and normal-oily in the warmer months. So, I get everything from dry patches to oily spots. I do not break out that often. However, I do go through phases here and there where blemishes are a problem. I blame the wild fluctuations of my hormones (in the past 3 years, I have had two babies...so, yes, lots of hormones!).
I am super excited about this Makeup Wars challenge! I have been an IT Cosmetics fan for a few years and must say, it truly is one of my favorite lines for face products, color cosmetics, and brushes.
I actually previously reviewed the CC+ Radiance Palette from IT Cosmetics as part of a special QVC set they released. Here are some snippets on that palette from my previous post combined with my updated thoughts after using the palette for awhile:
NEW CC+ Radiance Palette:
I am still really loving this face palette! Let me be real ya'll...I am a blush addict and blush and blush palettes are amongst my favorite makeup items to try out and even to collect. To me, blush is the makeup item that gives me that "ahhh" moment. Blush finishes your face, perks you up, and generally just makes you look healthy and vibrant. I mean, you smile to put it on...so, even applying it makes me happy, lol!
Sorry, I digress, back to the face palette details, lol! This palette really is the perfect makeup product for me! The palette contains three new formulas from IT Cosmetics: The CC+ Brightening Finishing Powder, the CC+ Matte Bronzer, and the CC+ Anti-Aging Blush. Put them together and you have everything you need to add color and radiance to your face! Each powder contains color correcting pigments to add radiance to your skin while warming up your complexion. Plus, they are formulated with silk and collagen to work on fine lines and pores and are packed with peptides, hyaluronic-filling spheres, Vitamins A, C, E, Grapeseed, Green Tea, aloe, and more to treat and boost your skin. On top of all of this, the colors are gorgeous and universally flattering. This palette is certainly a go-to for blush, bronzer, and highlighting! It is so simple to use when I am in a hurry (which is most days): just whip out this palette and apply. :) It truly is your one-stop palette for bronzing, brightening, and blush! Retails for $38.00.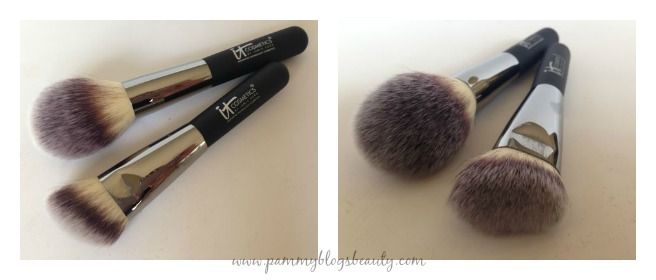 It Cosmetics Brushes:
Have you ever tried IT Cosmetic's brushes? O.M.G, they are simply amazing!!! I know that I have raved about their brushes a lot in past posts. Honestly, I have yet to meet an IT Cosmetics brush that I do not like. Their brushes, and face brushes in particular, are amongst the best offered on the market. Across the board, the brushes are high quality, well-made, extremely soft, and very well designed for their purpose.
For this post, IT Cosmetics sent me two brushes. While the brushes are not labeled, I was able to determine that they are the
Heavenly Luxe Wand Ball brush
and the
Heavenly Luxe Angled Radiance Brush
(available at QVC). I can see why IT Cosmetics sent these brushes to accompany a feature with the CC+ Radiance Palette: They are perfectly designed to apply the beautiful powders from the palette!
The Heavenly Luxe Wand Ball Brush
:
If you are looking for a fabulous all purpose face brush, this is it! As expected from IT Cosmetics, it is amazingly soft and well-constructed. The brush accomplishes the right balance of stiffness, density, and softness for a soft and diffused airbrush finish with your products. I like using this brush primarily for blush, but also like using it for bronzer, too. For me, this brush is ideal for using with richly pigmented blushes and bronzers like the ones featured in the CC+ Radiance Palette as the brush gives a light and soft application (you don't want to go too heavy with application with richly pigmented blushes, right!? :) The tip of this brush is literally the exact size of my cheek area where I want blush applied. So, a couple strokes on each cheek and "boom"...blush is perfectly applied! I also love it for bronzer. I am very fair skinned and almost always want to go "light" with my bronzer application. This brush really allows for that perfect light dusting of bronzer focused in just the right area with the tapered tip. This brush is an investment at $48.00. However, it will last you for years with its great quality and you can use it for not only blush and bronzer, but it would also be a great brush for finishing powder, too!
The Heavenly Luxe Angled Radiance Brush
:
Here is another fabulous brush from IT Cosmetics. This brush is a super duper soft, densely packed, angled brush. I find that it is absolutely ideal for highlighter application! The compact size of the brush, the angle, and the stiffness really targets the exact size of the upper cheek area and the forehead area where I like to apply highlighter. It allows the powder to be pressed precicely on your skin and it just melts right into your complexion. Plus, like the Heavenly Luxe Wand Ball Brush, this brush is sooooo incredibly soft! This brush retails for $38.00.
Shop the Post:
As you can tell, I really love the overall effect of the combination of the gorgeous IT Cosmetics CC+ Radiance Palette and both the Heavenly Luxe Angled Radiance Brush and the Heavenly Luxe Wand Ball Brush. The powders in the palette work nicely with my skintone. I especially love the blush and the Heavenly Luxe Wand Brush! They have become daily staples for me!
Have you tried this palette? I would love to hear what you think! Curious as to what the other Makeup Wars bloggers think of this palette (how does it look with different skin tones?)? Be sure to check out the thumbnails below to read their posts!
Affiliate Link