Press Sample
Affiliate Link
Blogger Ambassador
We would all love unlimited extra time in our day that we can use towards self-pampering and our beauty routines, right?!?! Well, since extra time is usually what we don't have, lets check out some products that stand out because of their ability to make you look pulled together quickly. I love that! I do admit that even when I am super short on time, I have to at least look presentable (and better yet, look good!).
Beauty Box 5 is a monthly subscription service that delivers 5 cosmetic samples to your door for $12 a month.
The samples are all deluxe and sometimes the boxes include full-sized products, too! Shipping is free on every box. :) When you subscribe to Beauty Box 5, each month you get a beauty box delivered right to your door! The boxes contain a mix of makeup, beauty accessories, skincare, fragrance, bath& body items, and nail products (Not all of these this month, but something from those categories). Beauty Box 5 is a great way to discover new products or get yourself out of a cosmetics rut!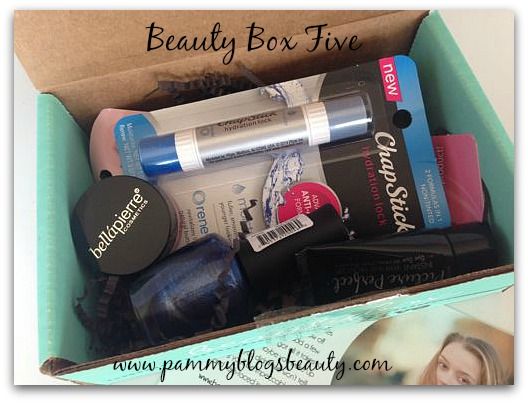 So, lets dig inside this box, shall we? Lets see what Beauty Box Five selected for us this month! Keep reading to find out what is inside!
Streamlining my Beauty Routine with Beauty Box Five: October Box!
What is inside?
Chapstick | Hydration Lock (full size! retails for $2.99): This single dual-ended tube has two formulas. One side is Chapstick's Renew and the other has Chapstick's Moisturize. I have already started to use this and find that I like to sweep both sides on to give my lips extra moisture. This time of year my lips start getting *so dry* with the change in weather. This Chapstick is really going to help!
Bellapierre Cosmetics | Cheek and Lip Stain in Pink (full size! retails for $19.99): This is a great beauty box score: a full size cream blush/lip stain!!! Plus, the color is gorgeous! It is a true Barbie pink (no shimmer) that is such a perfect color for cheeks and lips. I love the color. yay! Dual purpose products like this really are time savers. Plus, I find that products that you can apply with your fingers save time, too. If you are running late, a simple few swipes of your fingers will give your cheeks and lips pretty color with this!
Extend Your Beauty | Cosmetic Tool (full size! retails for $5.49): OMG! I have been wanting to try one of these beauty spatulas. I have heard great things! This tool is actually a very mini spatula. It is meant for scooping out those last precious drops of your favorite beauty essentials. The small size can fit into the skinny necks of foundation bottles and other makeup and skincare products to get out the very last drop. Plus, it is dishwasher safe. So, you can use this over and over! What a genius idea!!!
Nanacoco Nail Polishes | Magic Kingdom (full size! $3.95): Wow! Another full size item!!! I have never heard of this lacquer brand before. So, I am excited to try it. The shade "Magic Kingdom" is gorgeous!!! It is a navy blue metallic with a hint of a silver shimmer. I can't wait to wear this shade!!!
Lashem | Picture Perfect (deluxe sample .17 oz, retails $3.95): This is a nourishing serum to apply right after cleansing. It also works great as a primer! I am excited to try. I know of Lashem. However, I did not know that they made skincare as well as lash products. Good to know!
Are you a fellow BB5er? I would love to hear about how you like your box this month! Be sure to use these Hashtags and social media tags if you tweet or Instagram your box:
#bb5fave
#chapstickplease
#bellapierre
#spattydaddy
#nanacoco
#lashem
@beautybox5
Affiliate Link