Press Sample
Affiliate Link
Blogger Ambassador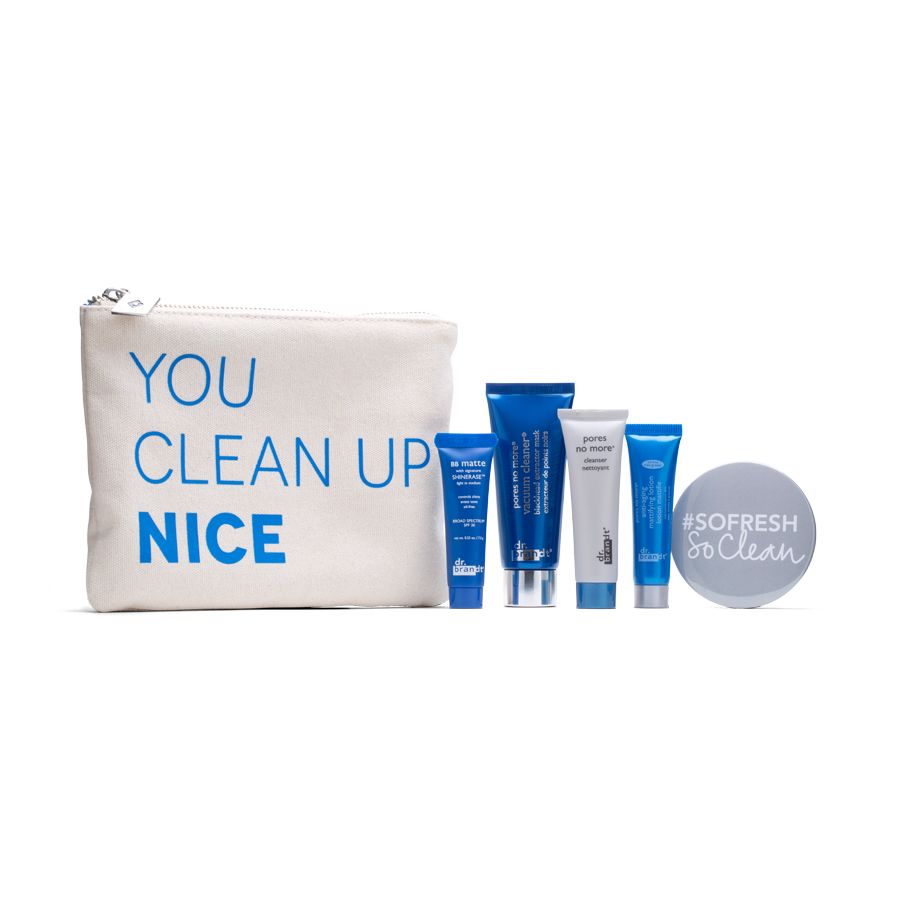 Fall is a great time to re-vamp your skincare routine. If you are looking for some new skincare products, this kit might just be for you!
Birchbox recently launched an exclusive
"Clean Up Nice" Kit from Dr. Brandt skincare
. Available exclusively on Birchbox.com for $45.00, this kit features Dr. Brandt's core products for achieving clear, radiant skin while minimizing the appearance of pores.
I am already in the midst of a ton of skincare testing for blog review. So, rather than test out these sample products for a full review for you guys, I am going to feature more of a box opening (or rather a "bag opening") post detailing what is inside this Dr. Brandt/Birchbox Skincare "You Clean Up Nice" kit.
pores no more® vacuum cleaner™, 1 oz: This is a face mask that "draws out dirt and oil like a magnet clearing blackheads and pores"...um, yes, please!!! Okay, this is going on top of my bathroom counter to try out ASAP! Sounds amazing. This 1 oz size might be a full size? If not, the sample is VERY generous!
pores no more® cleanser, 0.7 fl. oz: This is a daily face wash containing salicylic acid. I find that I really enjoy cleansers containing chemical exfoliants to keep my skin clear. I am, for sure, going to want to try this.
pores no more® anti-aging mattifying lotion, 0.25 oz: This is a hydrator packed with anti-aging ingredients (retinol) that leaves you matte and targets fine lines. I can't use this just yet as I am avoiding retinol while nursing. However, I will certainly hang onto this to try it out in the future! I am all about multi-tasking products like these. Such time-savers! :)
BB matte with signature SHINERASE™ in Light – Medium, 0.25 oz: This is an oil-free BB Cream with a matte finish. I was a bit confused at first with my tube...the product separated and came out funny. However, I know that with Birchbox, whenever there are any issues (at all) with their samples, they quickly reply and happily re-send the products if need be. I really *heart* their customer service. So, I emailed to inquire if it was just a bad tube. It turns out that I was supposed to shake the product first before use. So, if yours seems separated, be sure to shake it first!
1 canvas bag: Lets just take a minute to appreciate the cuteness of this bag! I love carrying items with "cute" sayings like this one. Who doesn't want to "clean up nice", right?!?! Anyways, this bag features "You Clean Up Nice" on the front and Birchbox/Dr. Brandt logos on the bag. The bag is canvas on the outside and lined on the inside with a blue cotton fabric. The bag features a silver zipper closure. I like the size of this bag! I think I will plan on using this as my travel skincare bag (since I travel with sample size bottles and actual samples).
#sofreshsoclean mirror: This is just a little "extra" a mirror for your purse. :)
Overall, this kit is a great introduction to Dr. Brandt skincare and their "pores no more®" line. I am especially excited about the "pores no more® vacuum cleaner" and the "You Clean Up Nice" bag!
If you are looking into this kit, don't delay! It will be offered for a limited time on Birchbox.com! :)
Affiliate Link