Affiliate Link
Press Sample
Are you looking for some new indie products to shake up your beauty routine? You should check out Gloss48! I am just starting to get to know this site and am starting off by trying out some products from their new launch:
Eva NYC
!
Gloss48 launches new, indie beauty daily. For the first seven days that products are on the site, they offer a promotional discount - so that you can try new products without breaking the bank. After the launch week, you can still shop an amazing collection of indie beauty at full price.
Eva NYC is a line of professional styling tools and hair care that takes inspiration from the runways and gets salon-quality results. Founder Eva is a savvy fashionista who gives an insider's look at the latest trends in fashion, beauty, and style while promoting stronger, healthier hair
Gloss48 will be featuring Eva NYC starting Tuesday, August 26 at 11am E here
From Eva NYC, I tried out the Freshen Up Dry Shampoo, the Hold Me Tight Hairspray, and the Therapy Session Hair Mask. To find out how I liked these products, please click "read more" below! :)
Gloss48 on Eva NYC:
Three words: Salon-quality results. These hair products bring the most advanced technologies and ingredients from the runway to your bathroom, so you can fool anyone into thinking you just had a blowout.
Eva NYC and My Hair:
My hair has some major needs. It is super-duper long, very thick, and coarse/yet fine. My overall hair is straight. However, I do have some funky wavy patches that cropped up when I had my babies. So, my hair can be a bit unruly. I also get it highlighted. So, it tends to be dry and damaged from that process. I am constantly seeking out super rich and moisturizing hair products. Rarely can a product be "too rich" for my hair. My hair seems to just drink in moisture and it does best with super-duper moisturizing products.
I am just going to start off by saying that my hair responds incredibly well to these Eva NYC products! I am pretty thrilled with the results (especially from the Hair Mask, swoon!!!). Plus, the packaging is cute and girlie and the products smell amazing. I am now a total fan!
There is no question that this is my favorite of the three products that I tried from NYC. If you only get one item this line. Get this mask! From the first use, it transformed my hair from dry, dull, and hard to manage to soft, shiny, and easy to style!
This mask smells ah-ma-zing!!! I am obsessed with the vanilla scent. The formula is super thick and rich. It contains ingredients like Argan Oil and Keravis Protein. I use it every/other shampooing as a mask while I am in the shower. I simply wash my hair and then apply this mask. I let it sit in my hair while I finish my shower (about 5 mins) and then I rinse it out. My hair is so smooth and soft after I use this. Plus, I find that my hair is easy to comb and style. It boosts the shine of my hair, too. I absolutely love it! Plus, what a deal for $13-$15 for a huge tub!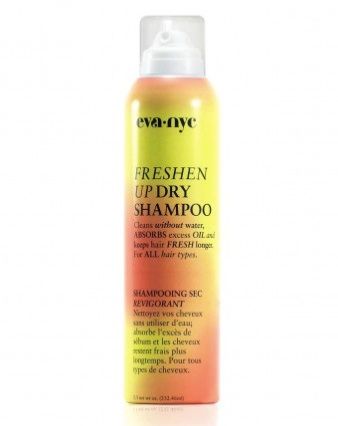 I wash my hair every 2-3 days. On days 2 and 3, I rely on dry shampoo to keep my hair looking and smelling fresh. This Freshen Up Dry Shampoo from Eva NYC has an amazing scent! It works quickly to absorb extra oil at the roots. Just spray it in and massage with your fingers or comb your hair through. It gives hair a clean feel without dulling it or leaving a white cast. Retails for $10.
This hair spray has nice holding power. Unlike the name suggests (a tight hold), the hold is workable (not tight/hard)...which is good! This hairspray leaves my hair shiny and manages the shape and fights frizz and humidity. I will admit that the scent is not my favorite of the Eva NYC scents (but that does not stop me from using it since it does work great). I have a travel size which is great for my purse/diaper bag or travel. Retails for $10.
Overall, trying these Eva NYC products introduced me to an amazing new-to-me brand and got me going with the fabulous Gloss48 website! Looking forward to seeing what they will launch next! Plus, the Eva NYC Therapy Session Hair Mask might just be a new Holy Grail item for me! :)
Have you scoped out Gloss48? What has caught your eye on their site?
Pammy Blogs Beauty