Affiliate Link
Press Sample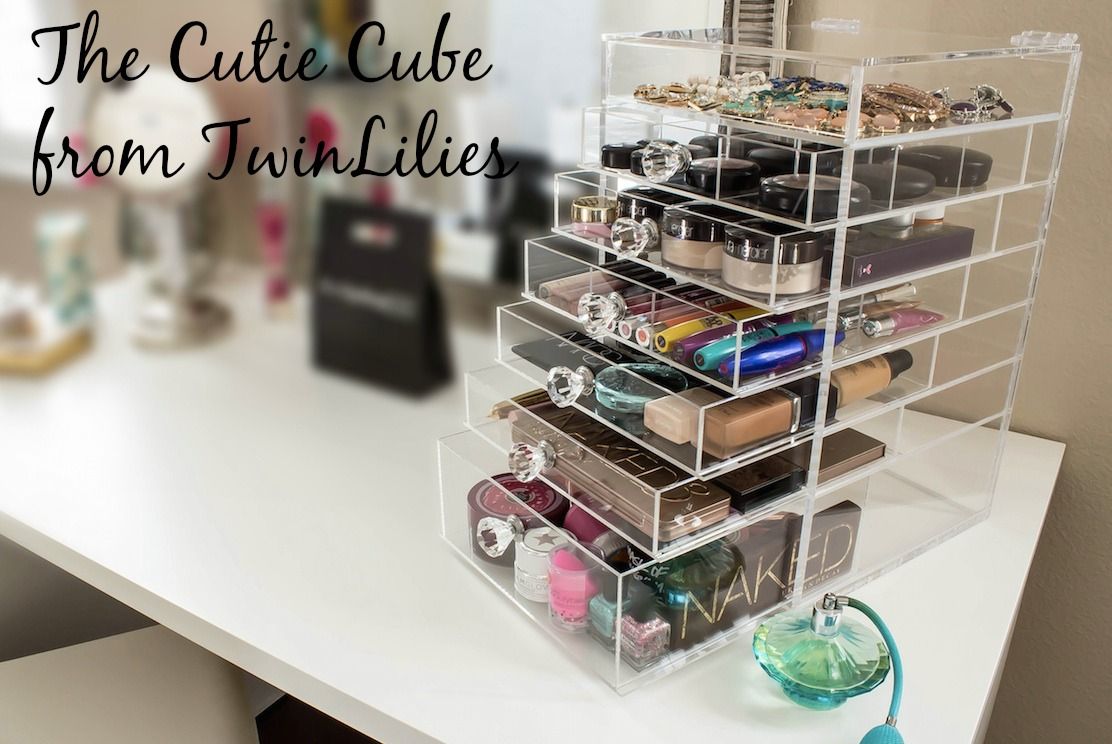 Makeup Storage and Organization is an ongoing and often an evolutionary process for me. I am constantly seeking out new solutions for a very large (too large) makeup collection. Ideally, I would just whittle my collection down so that I can fit it all into the storage solutions that I already have in place. However, as a beauty blogger, I always need room for new items and items that I am testing out. While my goal still is to sort through my collection and trim it down quite a bit, in the meantime, I still seek to store it attractively!
Some of you may remember from my recent Makeup Wars Storage post that I recently re-did my vanity area. After much saving, I purchased the Hayworth Mirrored Vanity and the Hayworth Mirrored Lingerie Chest from Pier1 for my makeup area and storage. My current makeup collection now "lives" in the Hayworth Lingerie Chest. However, with acquiring new products and sampling new makeup collections for blog review, I already outgrew it! Plus, it actually is "too big" and hard to shuffle through when just looking for my everyday makeup. While I need more space for more products, I also just need a smaller unit where I can house my everyday makeup items and my new products that I am testing. I don't have much time to get ready everyday and I want to have the items that I need to use quickly accessible.
Enter the *gorgeous*
acrylic Cutie Cube Luxe Makeup Storage unit from TwinLilies
! This is actually exactly what I had in mind. Sure there are lots of options for makeup storage out there...but, I want something elegant, functional, and attractive! My mirrored vanity and storage chest are so chic and elegant that I needed storage that would look beautiful next to/near my vanity and storage chest. The TwinLilies Cutie Cube accomplishes this for sure!
To find out more details about this awesome 7-tier Acrylic "Cutie Cube" Storage Unit from TwinLilies, please click read more below. Plus, I have an awesome Coupon Code to offer my readers!!!
I tried out the Large Sized cube (they have three sizes available: small, medium, and large). Also, you can pick out what kind of knobs you want for the drawer pulls. I choose pink and they are even prettier in person than they are online. Honestly, I really can't express enough how attractive this unit is.
The large unit has 5 short drawers, one deep drawer (on the bottom), and a recessed space under a flip top lid (the size of the small drawers). The Cutie Cube comes with a variety of drawer dividers, too. There are interlocking grid ones that creates 9 square compartments and horizontal dividers as well to divide the drawers into halves or thirds. I love that these dividers are included! Often the issue with drawer-type makeup storage is that you need to purchase more containers to divide within the drawers...well, not with these Twin Lilies Organizers. Plus, the fact that the dividers are the same clear acrylic as the container makes the divisions look invisible and attractive.
Speaking of the clear construction, can I just mention that I love that this storage unit is clear! You can easily see inside. That means no more digging through drawers to find what you need. Love it!
How I organized mine: You can see by the pictures that I posted that my unit is already full, lol (I guess that makeup sorting/paring down is in my near future, right, lol!). Here is how I organized my 7 tier unit: inside the flip top are products that I am testing out for blog review. The next drawer contains everyday products like my face powders, kabuki brush, and lip balms. The 3rd drawer contains lip glosses, chubby lip pencils, and lipsticks. The 4th drawer holds primers and serums. The 5th drawer holds overflow blushes and bronzers (blushes are my favorite makeup item to "collect"...so, yes, I needed another blush drawer, lol!). Finally, the bottom large drawer holds my larger palettes. Overall, this acrylic container holds the items that I reach for on a day-to-day basis.
It has been so nice adding this
TwinLilies Cutie Cube Acrylic Makeup Organizer
to my vanity area! Not only is it attractive, but also it arranges my makeup neatly and is so functional and easy to access! I literally put it right under my vanity table within arms reach. I have literally shaved minutes off of my makeup routine because I am now not having to dig through my larger drawer until to find my everyday items.
Now, if you have a more "normal" sized makeup collection. A
Cutie Cube Acrylic Makeup Organizer
is all you would need and you could pick the size most suited to you. These could easily sit on top of a bathroom counter as well for those of you who store and do your makeup in your bathrooms. If you are looking for a top quality elegant acrylic makeup organizing unit, you should totally scope out the options from TwinLilies! I totally recommend them for both quality, looks, and function! I am absolutely thrilled with mine!
Here is a Video of the Cutie Cube Organizer in action:
Now Introducing The Cutie Cube (Luxe) by TwinLilies
from
Twin Lilies
on
Vimeo
.
Do you have any makeup storage tips? I am always wanting to hear any great tips for storage!!!

Coupon Code:
Looking to purchase this unit now? I have an amazing Coupon Code for you lovely readers!!!

Coupon Code: PAMMYBEAUTY

*Code is to be entered on page 2 of checkout (after entering most of the payment information) and will give you $25 off your order of any Organizer!

UPDATE:
For the month of October 2014, get $50.00 off! Enter the code PAMMYBEAUTY
Affiliate Link