Affiliate Link
Press Sample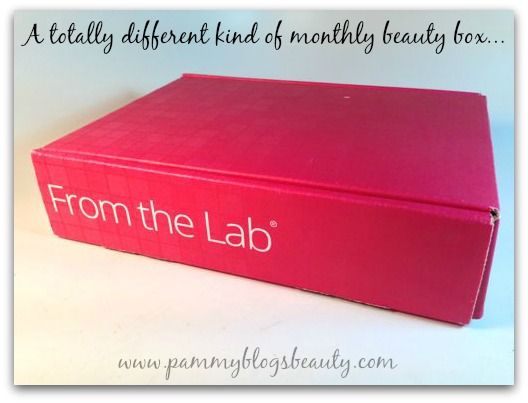 It is time for another beauty box opening! This time I am sharing with you an entirely different kind of beauty box.
From the Lab
is monthly box subscription that sends Full Sized "next generation" beauty products right to your door.
What are "next generation" beauty products? Many beauty brands do not produce their formulas in-house. The formulas are made in various laboratories around the world. Once the beauty companies buy the formula, it might not be available for purchase for quite some time.
From the Lab is shaking up the beauty industry in a big way by bringing FULL SIZE next generation beauty products to consumers -- on a regular basis. The company offers a monthly subscription plan that delivers the future of beauty right to consumer's doorsteps every month. From the Lab has partnered with the best independent cosmetic labs in the world – the same labs where high-end, brand-name cosmetic companies get their ingredients- to procure their most groundbreaking products. From the Lab forgets the marketing and unnecessary packaging to get these top formulas to market before prestige beauty brands do. By eliminating the frivolous materials and a lengthy, drawn-out distribution process, From the Lab is able to give its subscribers FULL SIZE luxury beauty products at up to 18 months before they will even be available in the US market - and for 80% off of retail price.
From the Lab
:
The monthly subscription Explorer subscription costs $29.95 per month (if you pay monthly...it costs even less if you sign up for multiple months) for a monthly beauty box. Each box contains from $50-$200 worth of products (average of $100). Each box contains full-sized products with simple "from the Lab" generic labeling (product name and a product number). The products have a 30-day satisfaction guarantee. Products are skincare, hair care, body care, and some makeup.
What happens if you fall in love with one of these "next generation" products? Well, you can purchase more from the From the Lab site when you run out. Plus, Explorer subscribers get an additional 33% off the member store on the From the Lab site.
As ya'll know, I have tried a lot of beauty sample and monthly box subscriptions. So, how did this one add up? Click "read more" below to find out. Plus, I will detail my "From the Lab" box opening! :)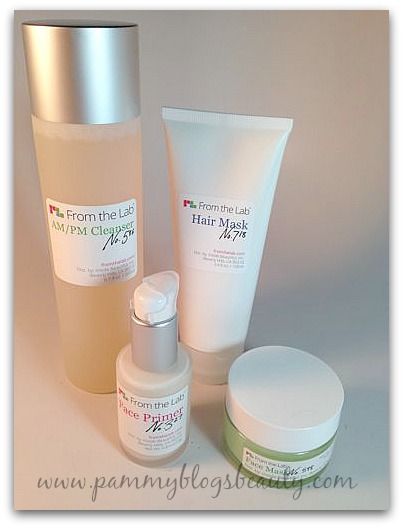 From the Lab
:
I must say that at first I thought that I would miss the brand-loyalty and excitement of brand recognition when opening a beauty box. I will fully admit to being a sucker for packaging and will also admit that I am extremely loyal to brands that I love. So, how do I feel about a box of "generic" products? I must say, I really do love this beauty box!
While the packaging is the generic "From the Lab" packaging. There is something chic and modern about the look and feel of these products. It really does make you feel that you are discovering something new! The packaging is that "soft" frosted glass and plastic (reminds me of the "softness" of NARS packaging if that makes sense). So, while the products are generic/From the Lab labeled, there still is something that makes it feel branded and unique.
Do you know what else is impressive? The size of these full-sized products! There is no question that these boxes are an amazing value! My box contained 4 full sized products. Wow!
Inside the Box: First Impressions:
From the Lab "Summer Essentials Collection" Box Opening:
The box that I got to try out is a skincare collection focused on beating the heat and staying refreshed in the Summer. This box has an amazing retail value of $255!
The box contains an information sheet with detailed info about each product (including ingredient lists).
Face Primer No. 327: This is a thin lightly tinted white lotion-like primer. It is super-duper light weight and feels like nothing on your skin. It is completely non-greasy. It smooths your skin, decreases shine, and helps your makeup to last longer. This is a nice option if you are looking for a light-weight primer.
Hair Mask No. 718: This hair mask contains peptides, Provitamin B5, natural oils, and peptides to add softness and shine while nourishing your hair. It feels a bit thin for a hair must. However, I am pretty pleased with it. Cool thing: You can use it on wet or dry hair either before or after washing.
AM/PM Cleanser No. 586: This is a one-step product that seems to do it all: removes makeup, cleanses, tones, and treats your skin. I am on a big miceller water kick lately. So, this product is right up my alley! It is certainly my favorite item from this whole box! I like using it primarily as a makeup remover/toner. I saturate a cotton round and remove my eye makeup with it. Then I saturate an additional cotton round to do the rest of my face. I follow up with my usual cleanser and the rest of my skincare routine. I would certainly repurchase this. I love the soft and clean scent!
Face Mask No. 598: This is a green gel-based hydrating mask to soothe your skin. It has a soft and refreshing scent. It contains ingredients like Absinth, Armoise, and Algae. I like alternating a gentle/soothing mask like this with my usual purifying masks. This is certainly a nice treat for my skin in the Summer!
What a super fun box! Overall, I am really happy with my "Summer Essentials" box and products from
From the Lab
! Plus, I like the uniqueness of this Beauty Box service. I think that this box really does offer something that the other boxes don't as far as value with the full sized products and that "special something" about discovering a new beauty product formula before you get sold on its branding! The product formulas really do stand front and center and not their advertising or product buzz.
What do ya'll think? Does this sound like a beauty box that you would like to try? Would you like to see me review more boxes from "From the Lab"? I know I am curious to try some of their makeup items or body care.
Pammy Blogs Beauty