Press Sample
Affiliate Link
Blogger Ambassador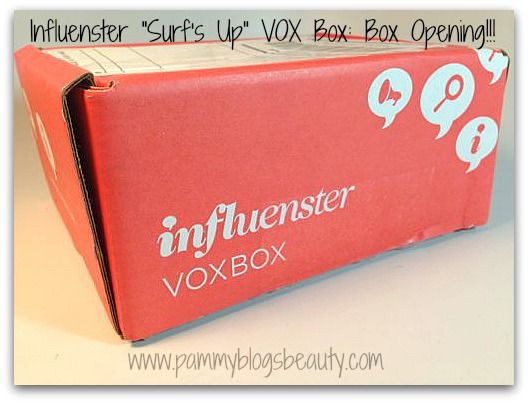 It is time for another
Influenster VOX Box Box-Opening Post
!
Influenster
boxes are so fun. So, I am excited to share this box opening with you!!!
Hey Bloggers, have you heard of Influenster? If you are a blogger and you love trying out new products, then you should certainly scope out Influenster. Influenster is completely free for bloggers!
How it Works: Influenster sends out periodic Vox boxes across a variety of categories or "badges". Each box has a "theme" and they are packed with full-sized samples and some sample size items and coupons, too. You get selected based on your expert badges, lifestage badges, Influenster score, and demographics. These Vox boxes are filled with items and coupons for your particular category. The Vox Boxes are totally free! While Influenster seems to be sending out boxes across the blogosphere all the time, you will only get boxes that you qualify for. If you stay up to date on Influenster and participate, you will eventually get a box!
What do you do when you get a VoxBox? The idea is that each Influenster should qualify for boxes to match their interests. So, basically you just get to have fun and test out the items that you get! Influenster will send you a survey to fill out with your honest opinions. If you go above and beyond by blogging about your box, reviewing products on the Influenster site, and informing your social networks, you are more likely to get selected for future boxes. Plus, you can have the opportunity to qualify for specific brand challenges from your box as well. This has worked out really well for me! Usually the boxes indeed do have items that I have fun trying out (and therefore love to blog and tweet about).
So, lets go ahead and dive right into this box opening! If you want to find out what is inside my Influenster Surf's Up VOX Box, please click "read more" to continue!
Inside the Box:
Jamba Juice Smoothie Kits (retail from $2.99-$3.49): I got a coupon for a free Jamba Juice Smoothie Kit and a discount coupon as well. I was able to pick up my Jamba Juice Smoothie Kit at my local Publix in the freezer section. I got the Razzmataz and the Green Fusion kits. Each kit has enough for 2 smoothies. You just add juice and them blend them in your blender. I really like these! They have lots of vitamins and are delicious, too! I like to make these after coming home from a morning gym workout. What a great idea to include this in a VOX box!
Hawaiian Tropic Silk Hydration After Sun Lotion (retail from $2.99-$8.99, 2 oz travel size): I have honestly been wanted to try this lotion for awhile. So, I was super excited to see this product in my VOX box. Plus, I am just about to head to the beach to test it out. I am going to pack this right in my travel bag as we are leaving to the beach in a couple days! Yay!!! It smells amazing and has a very soothing feel. It is a swirled product with ribbons of cream and gel moisturizers.
First Aid Shot Therapy ($2.99 for a single dose): This is a liquid pain reliever "shot" (drinkable). It is for headache relief and muscle aches. I have not taken it yet. However, I am going to place it with our medicines for my next biggie headache.
SinfulColors: ($1.99 each): Yay for SinfulColors! SinfulColors is one of my go-to brands for great quality, inexpensive nail polish. Their colors are always spot-on for seasonal trends. I got the shade Aqua which is a super deep Aqua blue with a shimmery pearl finish. This is going to look so cute on my toes! The best thing, these polishes are only $1.99 each!!!
COVERGIRL Bombshell Curvaceous by LashBlast Mascara: ($9.49-$11.49): I am a huge fan of CoverGirl mascaras (especially the LashBlast versions). So, I am super excited to see this in my VOX box! This new mascara by COVERGIRL has two brushes and formulas to build curl, volume, and lash intensity. The first step thickens and curls and the last step darkens and seals.
What a great
"Surf's Up" VOX box from Influenster
!!! It has introduced me to some new products and I can't wait to use these products. I am especially glad about the COVERGIRL Mascara, the Hawaiian Tropic lotion, and the SinfulColors polish!