Affiliate Link
Blogger Ambassador/Press Sample
THE FRESH & BEAUTIFUL COLLECTION
by Total Beauty! Lets check out what is inside the box! Click "read more" below for my box opening and first impressions of what is inside the box! :)
THE FRESH & BEAUTIFUL COLLECTION
by Total Beauty
Inside the box:
Orglamix Pure + Natural Loose Color Concentrate in Rose Gold: (Full Size! Retails for $10.00): Rose Gold is so on-trend right now for color cosmetics! So, this shade selection was a good one for this pretty and sparkly mineral pigment from Orglamix. I have never heard of this brand. So, I am happy to try out a full size sample from their line. This will be beautiful worn as an eye shadow.
Senna Cosmetics Lip Lacquer in Hard Candy: (Full Size! Retails for $19.00): I have heard so much about Senna Cosmetics lately from my fellow beauty bloggers. So, I am excited to see a product from them in this box! This is a sheer gloss with an ultra light pink sheen and an iridescent sparkle. Pretty!
Tini Beauty "Nailtini" Nail Lacquer in Grenadine (there are 6 shades available for this box, Full Size! Retails for $13.00): OMG, this polish bottle is adorable! It has a little martini on the bottle...you know, "nailtini", cute! The polish is a deep fuchsia creme, which is a color I am obsessed with wearing lately. It has taken me years to realize that fuchsia is very flattering on my skintone. So, now I want to wear this shade all the time. :)
June Jacobs Vanda Orchid Mist: (Deluxe Sample size 2.0 oz, retails for $14.00): I have heard of this brand. Yet, I have never tried anything from them. So, I can't wait to give this mist a try. This toner smells very nice...it is a spa like scent (can't quite place the exact notes of the fragrance). I adore using toners and use them every single time I cleanse my skin. Can't wait to use this. What a nice large sample size! Perfect for travel.
DHC Deep Cleansing Oil: (Deluxe Sample size 1.0 oz, retails for $5.50): Ooohh! I am so excited to see this product in the box! I am so into facial oils lately and I am particularly into cleansing oils! DHC's cleansing oil is a classic. So, I am thrilled to have a nice deluxe size sample to try out! word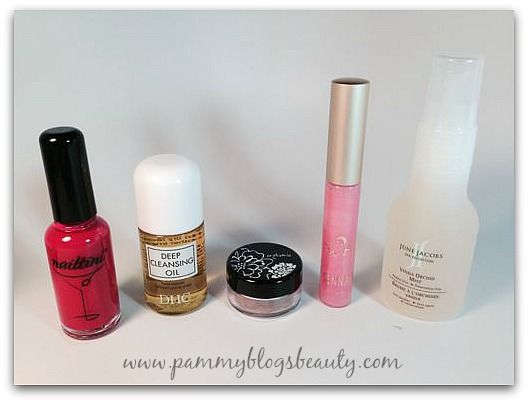 The Skinny:
Overall, I think that this is a great box from Total Beauty! I think that there is a really nice balance of products here...from cleansing oil and toner to polish, gloss, and mineral pigment. There is certainly something for both the cosmetic lover and the skincare enthusiast!