Affiliate Link
Press Sample
Have you seen Shiseido's new lineup for Spring 2014?
What is new for Spring 2014?
Makeup:
Sheer Eye Zone Corrector ($30, 6 shades) cancels out "color noise" to brighten and balance skin tone in a convenient applicator- pen, with 96% of women reporting under-eye dark circles immediately minimized
Lacquer Gloss ($25, 8 shades), designed by Artistic Director Dick Page, offers a transparent lacquer finish with shine, color and moisture from a triple-layer formula, inspired by the suki-urushi style of traditional Japanese lacquerware artistry
New shades: Lacquer Rouge ($25, 7 shades) and the Shimmering Cream Eye Color ($25, 8 shades) collections
Sebum & Oil Blotting Papers ($12) and Sweat & Oil Blotting Film ($12) provide on-the-go solutions for a refreshed, oil-free complexion and are ideal for use before makeup touchups
Skincare:
Joining the Future Solution LX line, of which Jennifer Connelly is a fan and spokesperson, the new Future Solution LX Total Protective Emulsion SPF18 ($240) and Future Solution LX Superior Radiance Serum ($225) reduce the appearance of wrinkles, sagging, visible pores and dullness with the groundbreaking anti-aging ingredient Skingenecell 1P
White Lucent Total Brightening Serum ($125/30ml, $170/50ml) helps prevent and diminish the appearance of dark spots and dullness, re-texturizing the skin's surface for added luster and moisture with Resveratrol, 4MSK, and active ingredient Bright Derm Fragrance
Benefiance WrinkleResist24 Pure Retinol Express Smoothing Eye Mask ($63) immediately helps to improve the appearance of eye area wrinkles and helps brighten dark circles and dullness with advanced Pure Retinol Micro-Infusion Technology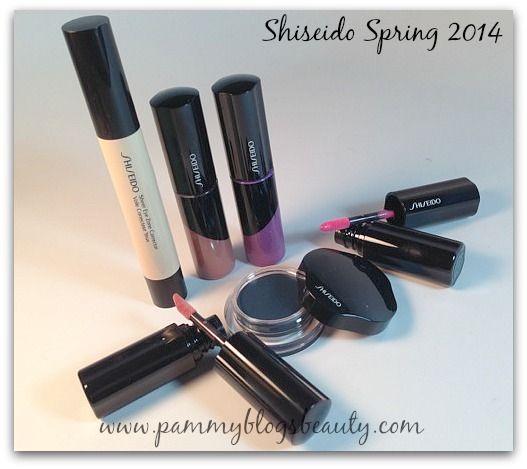 I had the opportunity to try out a few things from the line and I am extremely impressed with Shiseido's makeup and skincare! To find out more details about the things I tried, please click "read more" below: Sheer Eye Zone Corrector, Lacquer Gloss, Lacquer Rouge, and the Future Solution LX Superior Radiance Serum.
Shiseido Sheer Eye Zone Corrector:
My eye area sure does need some correcting: lack of sleep (I have a newborn and a toddler, no sleep for me!), allergies (year round allergies: red and watery eyes), and heredity leave my eye area looking very dark, indeed. I need all the help that I can get for my eye area. So, I always like trying the latest and greatest products that promise to do something to help my trouble area.
This new Eye Zone Corrector from Shiseido works based color theory: it uses complimentary colors to cancel out the lack of red or yellow coloring beneath the eyes ("color noise"). This product brightens skin while balancing the tones with complimentary color correction. It also provides hydration and applies with a sheer crease and fade-free finish.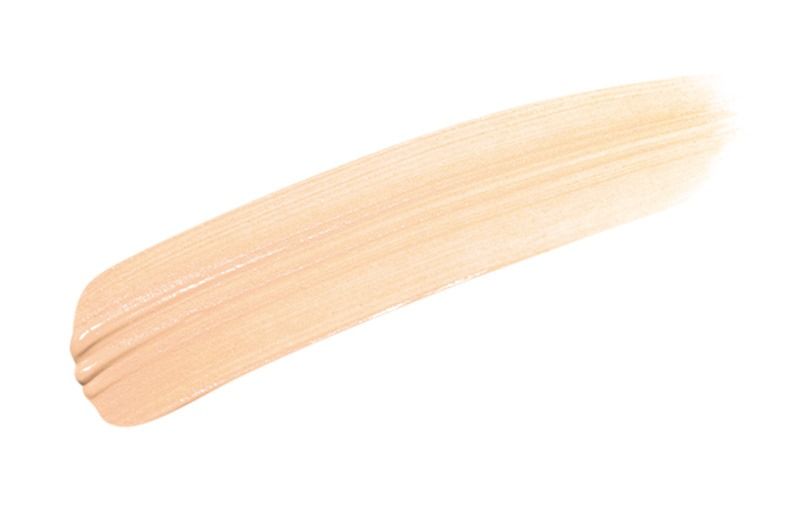 Key Ingredients:
Micro Net Formula: Ultra thin formula that allows light to pass through (think of it as a sheer curtain)
Orange Net Base: An exclusive color that adds the red and yellow pigments that dark circles lack while adjusting brightness
Reflect + Fit Powder: Light technology to adjust "color noise": Blue Light cancels Brown Noise, White Light cancels blue/black noise, and Green Light cancels Red Noise
The Skinny:
Sheer Eye Zone Corrector is available in six shades: Very Light (101), Light (102), Natural (103), Natural Ochre (104), Beige (105), and Warm Beige (106).
Retails for $30.00 each
The Shiseido Sheer Eye Zone Corrector is packaged in a tube with a dense oval brush applicator. The size and shape is great for hard-to-reach eye areas.
Shiseido Lacquer Gloss:
I am so excited about this new lip product from Shiseido!!! Shiseido really does lippies well and this new fabulous gloss is no exception! These are "transparent laquers" with clear color and a glossy finish. These give great shine, color, and moisture in one step.
I absolutlely love the feel of this gloss. It is nicely non-sticky. It feels smooth and moisturizing and packs some mega-shine. I tried out the shades
Nebula V1207
, a soft sheer violet (I adore violet shades on the lips, I find them to be very flattering for my skin tone), and
Debut BE102
, a soft semi-sheer beige nude (it is a bit more pigmented than
Nebula V1027
, so these glosses may vary in pigmentation depending on the shade). These glosses are a fabulous new addition to the Shiseido line! I can't wait to try more shades. Plus, I must mention that I love the very sleek and modern style packaging!
The Skinny:
These retail for$25.00 each.
Shiseido Lacquer Rouge:
I love these liquid lipsticks! I am already a fan. So, I was excited to try out some new shades!
With just one coat, Lacquer Rouge provides intense color and a lacquer-like finish by simultaneously adhering deep, rich pigments and a topcoat-like shine.
With continued use, Lacquer Rouge also improves dry lips, leaving them deeply moisturized and smooth with Super Hydro-Wrap Vitalizing DE, an advanced moisturizing ingredient that actively pushes moisture into lips and effectively retains it for hours.

The New Shades:
Introducing seven new shades:
Bonbon (PK425) – playful, bright candy pink.
Ebi (RD321) – pinkish red.
Hellebore (RS723) – rich brownish violet.
Indiscreet (VI324) – bold violet.
Metalrose (RS322) – subtle rose with a metallic finish.
Pomodoro (RD319) – bright tomato red.

Sunburn (RD320) – tawny pinkish red.
I tried out the shade PK425 Bonbon (bright candy pink) and RS322 Metalrose (subtle rose with metallic finish). I love the color and feel of these beautiful liquid lipsticks!
The Skinny:
These retail for $25 each.
I am already a fan of these cream eye colors. So, I am happy to try a new shade: Nightfall (a deep inky blue)
These lightweight, long-wearing cream shadows maintain a smudge-free and dewy finish that won't crease or fade for up to 16 hours. Each shade can be worn separately or blended together for a variety of looks and effects.
Here are all of the new shades:
Introducing eight new shades:


Cardinal (RS321) – dark, rosy purple.
Esmaralda (BL620) – deep, elegant aqua blue.  Konpeito (RS318) – sweet, candied rose.
Lemoncello (YE216) – fresh, lemon-zest yellow.  Nightfall (BL722) – mysterious, inky blue.
Shoyu (BR623) – deep dark brown.
Sudachi (GR619) – luscious, juicy green.
Yuba (BE217) – creamy beige.
The Skinny:
These retail for $25.00 each.



Shiseido Future Solution LX Superior Radiance Serum
:
I love a good serum! I am a devoted user of serums both day and night. So, I am always interested in trying a new serum. If you have never tried Shiseido's skincare, and you like high-end skincare, you really should scope out the line. The products are certainly expensive. However, if you have the money to spend, your skincare is an excellent investment and Shiseido's line is fabulous. I tested out this serum for about 4 weeks. Overall, I really like it and am very happy with the results. The serum is super silky and smooth and feels lovely going on. It works well under makeup, too. My skin looks hydrated and plump when I use this and it seems to smooth out fine lines.
The Future Solution LX products are formulated based on the groundbreaking discovery that damaged, stressed skin contains high levels of a protein, Serpin B3, which accelerates the aging process. The result of seven years of research, Shiseido discovered that a key ingredient, Skingenecell 1P, both decreased the amount of Serpin B3 in the skin and promoted the production of strong, healthy cells.
Shiseido continues to bring the best in modern skincare with the new

Future Solution LX Superior Radiance Serum.

After ten years of extensive research, Shiseido developed the

Pearl Hybrid Complex.

Inspired by lustrous Hanadama pearls, the complex delivers clarity and radiance for a naturally-glowing complexion while helping to protect against dullness and signs of aging.
When the

Pearl Hybrid Complex

is combined with Shiseido's patent-pending

Skingenecell 1P

, the resulting

Lustrous Dual Action Technology

diffuses light from the surface layers of the skin for a more even-toned and radiant complexion with a pearl-like luster.
The

Future Solution LX Superior Radiance Serum

includes the following ingredients:
Pearl Extract

– extracted from pearls found in Uwajima, Japan, it helps to promote skin smoothness and hydration.
4MSK

and

Intensive Brightening Remedy

– exclusive brightening ingredients that help promote an even-toned radiance.
Skingenecell 1P

– patent-pending ingredient helps improve and protect the skin's resilience and smoothness. The technology works within the skin's surface to hydrate, revitalize and visibly enhance skin quality for a more luminous, lasting complexion.
Super Yeast

and

Star Fruit Extract

– helps increase cellular renewal.
Uji Green Tea Extract

– a known antioxidant to help prevent signs of skin aging.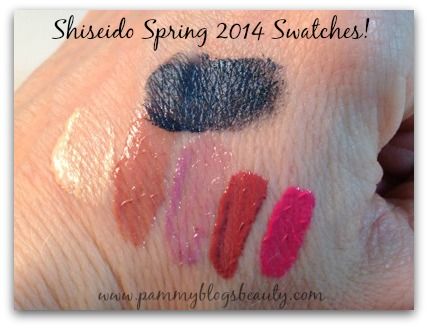 Have you seen the new Shiseido lineup for Skincare and Makeup for Spring 2014? What items are you lusting after?
As always, thanks so much for reading!
XOXO!!!