Affiliate Link/Referral Link
Press Sample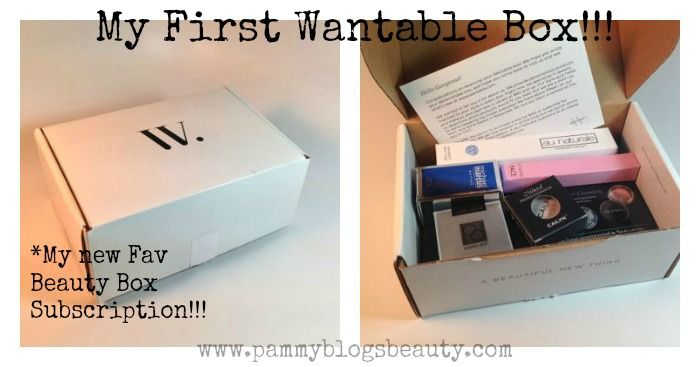 Have you heard of
Wantable
?
Wantable
offers a fabulous monthly beauty box subscription!!! I know that there are tons of beauty subscriptions out there. Believe me, I have tried many of them! However, I think that the subscription offered at Wantable is in a class by itself! From the online customizable quiz to the amazing box you receive, the entire experience is just stellar!
Categories: Wantable offers 2 monthly box categories: Makeup or Accessories. So, first you choose your category. I choose Makeup.
Quiz: Then you take your personal style quiz.
Create Your Box: You have the option of hand-picking the items in your box or having a box created for you by the Wantable team based on your style quiz questions. I wanted to test out the experience of a Wantable-selected box. Plus, I like the element of surprise! Plus, I was curious...could the Wantable team actually pick items that I will love based on my answers??? The beauty questions are extremely specific! Wantable wants to know your exact preferences.
Cost: You can either subscribe for a monthly box for $36 or buy a single box for $40. Subscriptions are automatically sent out monthly and you can cancel at any time.
The Box: The box contains *full size* products from premium and specialty brands. My box contained 5 full-sized items and one sample sized item. The box itself is no-frills. However, it is packed extremely well and all of the items arrived safely and in-tact!
Satisfaction: Guess what? If you don't like your box...just send it back for a full refund! No questions asked!
So, do you want to hear about my online experience at
Wantable
and my amazing
Wantable box
? Click "read more" below to find out more! I will give you a hint...I LOVE it! :)
Here is a snippet of the Wantable Quiz:
More About My Online Quiz Experience at Wantable:
I just have to tell ya'll again about how well designed the
Wantable
quiz is! It is extremely detailed and they cover all bases. Not only do they want to know what colors you like, but also you are able to indicate preferences for finishes (glitter? shimmer? matte?) product type and texture ,(powder? cream? stain? gel?) tone (bright? neutral?), etc! To indicate preferences, you slide a dot along a line closer or further towards "love" or "dislike". It was interesting just to lay out your preferences like this! I find that I am neutral on many makeup items. However, there are things that I clearly like or dislike as well. Wantable promises that you will never get your "dislked" items and will primarily get
items that you really "love"!
Yes!!! Honestly, the items that were selected for me by
Wantable
based on my quiz were just spot-on as far as my preferences!!! I am extremely impressed! I seriously adore the shades, textures, and finishes of the items in my box. They are honestly items that I might have picked out myself if I was shopping these brands in person. The cool thing? I get to try brands that I never even have heard of and brands that I have always wanted to try. Talk about getting someone out of a "makeup rut"! This is perfect. I will fully admit to mostly shopping within brands I already know (with the exceptions of me reading a blog review or seeing a YouTube review and heading out to buy that product in particular). I feel like this
Wantable box
has expanded my catalog of brands that I know and love!
What is in my first
Wantable box
:
All Full Sized Products
!!!
Michael Marcus Polish | Can Can Girl: I have never heard of this brand. So, I am super excited to try out this pretty polish! I love the modern and unique bottle design. The polish is a bright poppy creme color. Lovely for late Summer!!! Retails for $15.
Paula Dorf | Cheek Color in Jazzed: OMG! I love Paula Dorf products!!! However, I have not purchased anything from Paula Dorf in years. Actually, one of the very first creme blushes that I ever tried was from Paula Dorf. So, I am already a fan of Paula Dorf Cheek Colors! :) Plus, ya'll know me, I adore blushes above all other makeup products. So, a blush in a beauty box is always a thrill for me! Jazzed is a slightly shimmery rose color. I know that many people don't like shimmer in blushes...but, I like both shimmer and matte blushes depending on what I am in the mood to wear (and I indicated that like shimmer in blush on my quiz). While I more frequently wear matte blushes, I like shimmer, too. Retails for $23.
Cailyn | Shimmer Powder Pressed Eyeshadow in Cloud: Another brand that I have not heard of! So, I am eager to wear this shadow. :) This is a prime example of Wantable matching me with products from my profile quiz. My favorite kind of eye shadows are shimmery light colors. I almost always add a pop of light colored shimmer to the middle of my lids. So, I know that I will get a ton of use out of this pretty shadow. The glittery shimmer is just beautiful!!! Retails for $15.
Face Stockholm | Lip Gloss in #19: I have heard of and seen Face Stockholm but I have never tried anything from the line. This lip gloss is a great introduction to the brand. The #19 shade is a sheer and shimmery pink gloss. The gloss is slightly sticky with no detectable scent. I am going to get a lot of use out of this versatile sheer gloss! Retails for $19.
Au Naturale Cosmetcis | Eye Pencil in Coco: Unbelievable! Another brand that I have not heard of! Seriously, this thrills me as I love to explore "new" (to me) brands. :) Coco is a coppery brown pencil liner. I know that I will get a ton of use out of this shade! I almost always wear brownish liners. So, this is really perfect for me. Retails for $18.
Sample: Lise Watier Ombre Souffle Supreme: This is a sample card with tiny samples of two shades of mousse creme shadows. While I wish that these were full sized, I am happy to get this little sample!
Box Value:
$90!!! Wow! There is no question that this box is an amazing value at $36/$40 per box!!! Not to mention, these are all items that I like and want to use (unlike other subscription boxes where you might receive a color that you would never wear).
I just loved my
Wantable box
! What a great experience! From the intricate online quiz to the fabulous resulting box,
Wantable
goes above and beyond to ensure that you are satisfied! Sure, this beauty subscription is a bit on the "expensive side" as far as beauty boxes go. However, you are really getting high end products here that you are practically guaranteed to like! I am extremely impressed with the products that
Wantable
selected for me. I mean, seriously, they were spot-on with the shade and finish selection of the items. Totally up my alley! While many of the brands were brands that I have not heard of, they are all brands that I am excited to try.
Do you think
Wantable
is a subscription that you would like to try? While I got this box as a PR sample, I am heavily considering becoming a subscriber (even though I really don't "need" any more makeup, lol)! I think I will opt for the pay-by-the-box $40 route. That way I can get a box whenever I feel like it without any big commitment (even though, the $36 is a better deal and you can cancel at any time...decisions!).
Also, don't forget that
Wantable
has an accessories subscription, too! That might need to be what I try out next! :)
XOXO!!!