Affiliate Link
Press Sample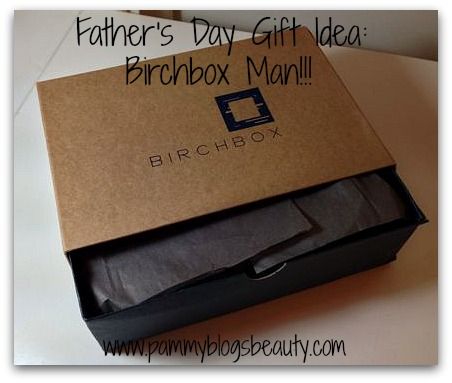 Are you having a hard time deciding what to get your husband or Father for Father's Day? Look no further than
Birchbox Man
! I know that it is sometimes so hard to find great gifts for the men in our lives! I always want to find the perfect gift, but sometimes I feel like there is just not a good selection of gifts for men. A subscription to
Birchbox Man
might just be the solution! :) A Gift Subscription to
Birchbox Man
is the gift that "keeps giving" for months! :)
Birchbox Man
is a monthly Men's grooming product sample subscription.
Birchbox Man is a unique platform that helps guys discover the best and latest in grooming and lifestyle products through monthly subscription boxes, a curated online shop, and original editorial content.
Birchbox Man
is almost just like Birchbox for Women except that the box is slightly more expensive and it contains products geared towards Men. Birchbox offers the following subscription options for
Birchbox Men
: Men's Gift Subscription Pricing: $60 for 3 months, $110 for 6 months, or $195 for 1 year. The boxes contain 3-4 deluxe samples plus 1-2 lifestyle products (Birchbox exclusive extras and non-grooming related items). Plus,
Birchbox Man
offers "The Guide": original online content with product descriptions, how-to videos, and more.
Birchbox Man will help Dad discover the latest in grooming and lifestyle products through monthly deliveries of samples, original editorial, and a handpicked online shop. In addition to exposure to cool, new grooming products, Birchbox Man includes a full-size lifestyle product in every shipment, ranging from cool barware to an old-school shoehorn – it's the gift that keeps on giving!

Need a gift last minute? No problem. You can purchase a subscription as soon as the day before; Birchbox will send you a printable PDF to give your dad. Or, purchase a subscription by June 6th and Birchbox will be able to send you your Dad's welcome Birchbox - perfect to give him with the printable PDF.
The best way for me to explain what
Birchbox Man
is all about is to show you a sample of what a
Birchbox Man
box looks like! To see what is inside my sample
Birchbox Man
box (and to find out what my Husband thinks of it), please click "read more" below!
Birchbox Man
: Box Opening
The Box Itself: The box itself is just like the
Women's Birchbox
except that it features a cool "slide open" (like a drawer). I wish that my
Women's Birchboxes
opened like this! :) The idea is that you can save these boxes and stack them for your sample storage. Great idea! Plus, just like the Women's subscription, each box contains a postcard letter with short descriptions of the products inside the box.
The Art of Shaving | Pre-Shave Oil (full sized cost: $25, sample size: .5 fl oz): A protective stubble softener with essential oils to facilitate smooth razor glide. Just apply a small amount before shaving cream for a smoother shave.
TOWELDRY | Creme Styler (full sized cost: $18, sample size: .5 fl oz): A lightweight, long-lasting styling formula powered by keratin and organic wax. How to: Warm up pea-sized amount in hands and apply to damp hair. Style as desired.
Balla Powder | Original (full sized cost: $15, sample size: 10.3 g): A premium talcum powder to curb perspiration and odor. How to: Sprinkle anywhere-feet, underarms, nether regions-for dryness and comfort.
John Varvatos | Artisan (full sized cost: $62-$82, sample size: small glass vial): This fragrance sample is a fresh citrus scent anchored by energizing clementine, tangelo, and mandarin.
Jack Robie | Pocket Square (full size! $25): This is a hand-stitched American-made accessory that's equal parts handsome and useful.
Birchbox Man | Shoe Horn (full size! $18): This is a handsome and practical essential that will preserve the life of (your man's) shoes.
My Husband's Thoughts on this Birchbox Man box:
My Husband *really* liked this box!!! He loved the variety of grooming samples. They are all items that he is excited to try out. They are all from brands that he has either heard of and is interested to try out or new brands that he is happy to be introduced to. He is especially excited about the Art of Shaving Pre-Shave Oil and the John Varvados fragrance. Plus, he thinks that the lifestyle extras are very nice quality and are totally practical items that he will use. Not to mention, the value of this box is unquestionable!
Looking for a Specific Birchbox for Father's Day? Try a 1-time Limited Edition Box!!!
In addition or instead of giving a Birchbox Man Subscription, you could opt for
Birchbox's latest Limited Edition box
-- "
Handsome and Hungry
". It makes a perfect Father's Day gift!
Here is the list of products that are included in this box:
Anthony Logistics for Men | Glycolic Facial Cleanser
Lucky Tiger | Peppermint Lip Balm
Recipe for Men | Antiperspirant Deodorant
Baxter of California | After Shave Balm
Baxter of California | Oil Free Moisturizer
Gillette | Razor
Sel Magique | Sea Salt
Quirky | Sliders
The retail price of this
Birchbox Man Limited Edition "Handsome and Hungry" box
is $48, with a value of $110+
Thanks for reading! Good luck "Father's Day" gift shopping! :)
XOXO!!!