Oooooh!!! Have you seen
Laura Mercier's new Spring 2013 Lippies
? TDF! It is official, Spring Makeup shades are certainly my favorite! I am just drawn to these types of colors.

The Scoop:
This month Laura Mercier released 14 new shades of their best-selling Creme Smooth Lip Colour.
The 14 new shades (in addition to the original 18 shades launched in September 2012) are lovely Spring shades! There is everything from corals to bright reds and even tangerine pinks. What a nice assortment of pretty colors!
The Lipstick formula contains soothing ingredients such as Vitamin E and Olive Oil
Shades include: 60's Pink, Girly, Pink Pout, Strawberry Sorbet, Royal Orchid, Damask, Fresh Raspberry, Brigitte, Spiced Latte, Cappuccino, Belize, Palm Beach, Maya and Hollywood
The Creme Smooth Lipsticks retail for $26 each.
I am such a fan of Laura Mercier's Creme Smooth Lip Colour! Just like the name suggests, these lipsticks are incredibly creamy and smooth. These lipsticks glide on incredibly smooth while laying down beautiful color. I love the semi-lustrous finish of these lipsticks! My lips are instantly soothed when I apply these! I love any lip product that adds moisture to your lips. These are so easy to apply and wear!
A Note on Packaging:
I love the sleek metallic-looking lipstick tube. The design is simple and sleek. I find that the rectangular shape is very nice for lipstick storage.
I got two shades from the new color collection: Fresh Raspberry (medium pinkish-red raspberry shade) and Palm Beach (a soft and wearable orange). I adore these shades! I find that I am constantly reaching for Palm Beach in particular as I am quite a fan of soft oranges on the lips. It is such a nice shade for my ultra fair skintone, blond hair, and blue eyes. Oranges really seem to bring out my eyes (orange is a complementary color to blue on the color wheel). It might sound funny for a lip shade to play up your eyes...but, trust me, it works! :) The Fresh Raspberry shade is lovely, too! Since I am not really a "true red" lipstick girl, I reach for Raspberry-type shades when I want a pop of bolder color.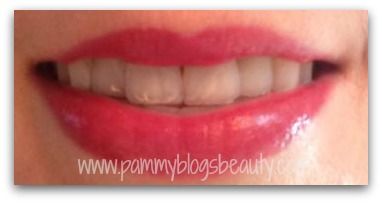 Have you seen these lippies yet at your local Laura Mercier counter? They are just beautiful for Spring 2013!!!
Thanks for reading!
XOXO!!!