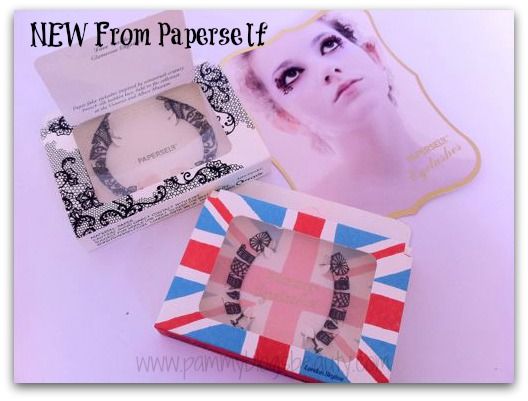 Are you looking for that extra "something" to finish off your Halloween look? Well, look no further than these gorgeous and
artistic lashes from Paperself
! Are you fashion-forward in your makeup looks all year round? Well, then you for sure should check these out! These lashes would complete a bold look for any night on the town if you are adventurous.
There is no question that these lashes are truly works of art! Paperself's newly released Lash collection includes Rose, London Skyline, and Lace Garden.
While I typically do not wear falsies in my day-to-day life, I can't help but appreciate the beauty of these. To see more pictures and hear more, please keep reading!
Do these lashes look familiar? You may have seen these intricately cut artsy lashes on Effie Trinket in Hunger Games or on shows like the X Factor. The good news? You can just go right to
Sephora
and pick some up for yourself!
Most years for Halloween I go for really outrageous lashes to go with my sexy and fun costume. However, with a 9 month old baby, my halloween outfit this year is a cute tee-shirt to answer the door for Trick-or-Treaters while I stay home with the baby. My how times have changed! :) So, while I am not wearing falsies on Halloween this year, I will envy those of you who do!
More about Paperself Lashes:
These Paperself lashes come beautifully packaged. Actually, the packaging almost looks vintage to me. These lashes would even make beautiful and unique gifts for your makeup-loving friends!
The
British Collection
: Lace Garden:
Glamorous Elegance
PAPERSELF brings to you 'British Collection' a tribute to Britain's craftsmanship, inventiveness and sprit. The essence has been conveyed using the iconic imagery with subtle cultural influences. This collection celebrates Queens Diamond Jubilee in U.K. and London taking the central stage for Olympic and Paralympic games.
The 'London' lashes represent the city skyline with iconic buildings like Tower Bridge, London Eye and Big Ben and 'Rose' the national flower of England is elegance in true fashion.
I have such a fondness for London after studying there one summer when I was in college. Such great memories! So, you know that I love these lashes that are actually a London skyline! Yes, these lashes are little buildings! Adorable! If you are a makeup collector or someone who collects London things, these are certainly for you!!! Are you into the Steampunk look? Well, then there is no question that you NEED these lashes!!! I did a Steampunk-inspired Halloween costume two years ago...wish I had these then!
The Lace Collection: Lace Garden:
Glamorous Elegance
'The Lace Garden' is the theme of the very first exclusive collaboration between PAPERSELF and the Victoria & Albert Museum. The Lace Collection launched in early September in the store and online. Given the brief of LACE by the V&A, the PAPERSELF team was inspired by French silk bobbin lace from the nineteenth century. The diverse and delicate floral patterns brought the theme of floral gardens to the PAPERSELF team's imagination. With the refined lace patterns, exquisitely cut details and tactile structure, Lace Garden is a wonderful combination of vintage and contemporary design.
These lashes are so pretty! They look like little paisleys coming right off your lashes. Beautiful design!
As you can see, these lashes are complete works of art!
So, how do you use and apply?
You apply these lashes just like regular false lashes. You can fit the lashes to your eyes and snip with sissors to adjust. The lashes are really wide. So, I trim about a 1/3-1/2 of the length off myself using my trusty
tweezerman sissors
. I can get two eyes out of one lash as I really like the "outer corner" lash look anyways.
Paperself suggests using Duo lash glue to adhere the Paperself false lashes to the base of your natural lashes. I didn't have any Duo. So, I used Revlon and it worked just fine.
If the Paperself lashes are too curly, simply uncurl with your fingers. The natural heat of your fingers will help them to uncurl.
My Impressions:
Whoa! These lashes are dramatic to say the least! There is not question that you will make a statement with these. If you like drama, costumes, and dressing up, then you will like these. They are so flamboyant!
I find them to be incredibly easy to work with! They are mounted on a string-like base that is very flexable and fits right to your lash line. The lash art itself is somewhat delicate. Yet, it holds up quite well. The lashes are amazingly lightweight to wear and they really stay put.
Hope you all have a very fun and safe Halloween!