Get your tips and toes ready for
Autumn/Winter 2012
with
butter LONDON
!
Fall-time brings a beautiful assortment of cool-weather polishes! The Autumn/Winter collection from butter LONDON is not only gorgeous, but also it hosts some truly unique shades!
For more about this collection, please keep reading!
I tested out two shades from the butter LONDON Autumn/Winter 2012 Collection: Trustafarian and Gobsmacked.

Let me tell ya'll...I am *totally* in love with both shades. Actually, I think that these shades represent my new Fall favorites for both dark and light shades! Does anyone else seem to rotate between dark and light shades every time they paint their nails? This is what I do. If I wear something light, when I remove it, I am always in the mood to replace it with something dark. Maybe I am wierd like that, lol! Sorry, I digress...these are my new favs for both light and dark nail looks!
Gobsmacked:
This shade is so gorgeous!!! It is a deep and dark charcoal grey glitter with a textured finish. The glitter flashes silver. I am amazed by the sparkle here ya'll! This polish is easily the most unique dark polish in my collection. I love that you can actually "see" the glitter in it. Often dark polishes just look "dark"; but with this one you can see the glitter details amidst the darkness. Very elegant and pretty!!!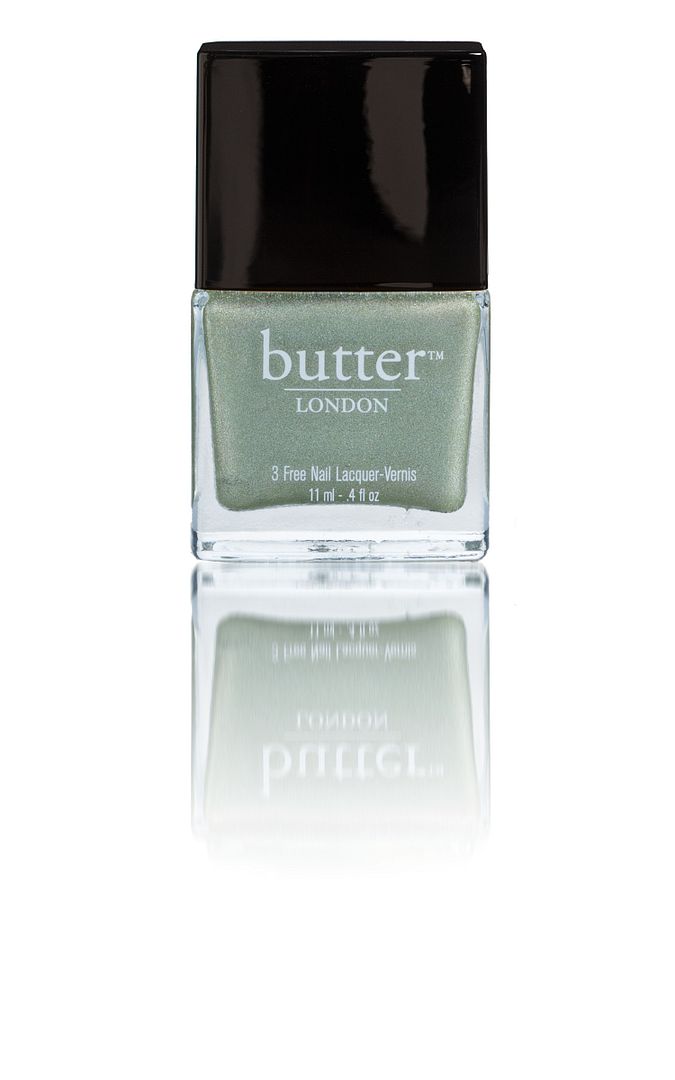 Trustafarian:
What a unique shade!!! This is a golden sage green holographic glittery polish. It has a smooth finish and is super-duper sparkly! I love how this is a light and neutral shade; yet, it also has color and sparkle!!! This looks very sophisticated on my nails. My Hub is a huge fan of this on my nails as well (he is picky and only likes certain shades on me). So pretty!!!
The rest of the Autumn/Winter 2012 Collection:
I did not sample the rest of the collection. However, I do have some color descriptions for you! Please see graphic at the very top of this post for pictures and below for descriptions! :)
Lovely Jubbly: This is a vibrant magenta polish with red. blue, and gold micro particles.
Shag: This is a high shine metallic with a warm orange/burgundy hue. This color looks so perfect for Fall!
Dodgy Barnett: This is a grey/silver holographic polish.
The
Autumn/Winter 2012 Polish collection
from
butter LONDON
has a lovely selection of fashion-forward polishes with notice-me finishes: metallics and holograms. The texture and sparkle in these polishes gives such a modern dimension and depth to your nail look.
Have you tried out any of these shades? If not, be sure to scope out butter LONDON while in Ulta or Nordstroms doing your Fall shopping!
Stay beautiful!