Smooth and protect skin with MoonEssence!
My skin has specific needs during the Summer months. While my body needs moisture and exfoliation all year long, it also needs a boost of SPF during the hot Georgia Summer! Man, has it been HOT!
Yes, you do actually need SPF *every* day all year long. But, it is crucial during the Summer! I rely on sunscreen when I am outside for an extended period of time. Body moisturizers with added SPF don't replace sunscreen for me. I use them in *addition* to my sunscreen. Basically, I switch out most of my moisturizers in the summer so that my "everyday" moisturizers have added SPF. Why not give your skin a boost of SPF?
Also, I am a fair girl who really never truly tans. I rely on self-tanners to give me color. For even color, good exfoliation is a must!
These products by MoonEssence give my body exactly what it needs this time of the year: exfoliation and moisture with added SPF!
Not familiar with MoonEssence
?
MoonEssence is a California-based 100% Natural and 95% Organic brand of Skincare, Body, and Hair products as well as a Mineral Makeup brand. MoonEssence products contain no mineral oil, parabens, synthetics, petroleum, sodium lauryl sulphate, and are not tested on animals. You can find
MoonEssence products at SFRbeauty.com
.
For this review I tested out MoonEssence's Hand & Body Moisturizers with SPF 15 (in a variety of scents) and MoonEssence's Body Polish in Lavender Rose.
The first step to smooth and moisturized skin is exfoliation. So, lets start this review with my thoughts on MoonEssence's Body Polish!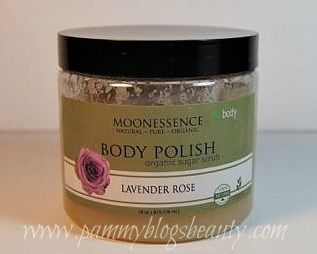 MoonEssence Body Polish Organic Sugar Scrub in Lavendar Rose:
The Scent:
MMMmmmm! First of all, this Lavendar Rose scent is to-die-for!!! At first whiff, I thought "oh, this is going to be way too strong". But, actually, it really isn't! The scent comes from a heady mix of pure lavendar and rose essential oils.
The "Lavender and Rose" Scent -
Rose oil is a powerful healing ingredient and balances out skin tone and heal acne scars and other skin conditions. Lavender is antiseptic and medicinal with the same healing properties than Rose.
Honestly, I can't get enough of this scent! I have never had a product with a rose/lavendar mix. It is just so lovely! My rose obcession began with
LUSH's Rose Argan Body Conditioner
(which is a Rose/Honey scent). I am finding that rose, when paired with the right scent, is just intoxicating! So, yah, I am getting gushy here. I just really love the way this scrub smells!
The Product Itself:
The scrub itself is a grainy sugar scrub that is drenched in a syrupy/oily base. It is thick, gooey, and packs a lot of scrub! I like that the product stays mixed in the container and does not separate like most sugar/oil scrubs. The scrub is rich, thick, and concentrated. So, you only need a small amount. This big tub should last awhile!
Ingredients Include:
Organic unrefined raw sugar, organic brown rice flour, saponified oils of olive, organic coconut, grapeseed, and 100% pure distilled essential oils.
How I use/My Experience with this Product:
I have used sugar/oil scrubs in the past with mixed results. I love a good sugar scrub. But, don't want to feel all oily after. I find that this product has the perfect balance! The sugar scrubs and exfoliates while the oils moisturize. But, what is cool about this product: The oils sink nicely into your skin and do not leave you feeling overly greasy! Also, the lovely scent lingers on your skin long after your shower or bath is finished. I might have to try the Body Butter in the Lavender Rose scent as well. I just can't seem to get enough of this scent!!! My skin feels soft, smooth, moisturized, and scented after using this product.
I like to use this body scrub in the shower or bath right at the end. I just dip my fingers into the product and scrub my dry areas in a gentle circular motion. Then, I rinse the product off.
The Skinny:
Retails for $28.99 for a 16 oz screw-top jar.
Available at SFRbeauty.
MoonEssence Hand & Body Moisturizer with SPF 15 is a lightweight everyday lotion for your hands and body.
I tried this product out in the following scents:
Milk & Honey
Ylang Ylang & Lavender
Bergamot & Grapefruit
Orange Honey
The scents of the lotions that I tried seemed to vary in intensity with Milk & Honey having the lightest scent (Actually, it was barely detectable. I almost thought it was unscented!). The Bergamot & Grapefruit and Orange Honey have refreshing Citrus scents which are perfect for summer! The Ylang Ylang & Lavender is a very soothing and comforting scent. The Orange Honey scent is my favorite of this group of scents.
The Product Itself:
The lotion itself is very thin. It sinks right into your skin to moisturize and protect. It is not in the least bit greasy. While this product is for hands and body, I think it is best suited as a lightweight body cream. Typically, I need something a bit more moisturizing for my very dry hands.
Everyday SPF protection!
I love that this product includes SPF! If you slather this all over your body every morning, you will know that you have at least a SPF of 15 to protect you while you are out and about during the day. If you are planning major sun exposure, be sure to wear a higher sunscreen. But, for everyday, this lotion gives you some nice protection!
Ingredients Include:
Organic Aloe Juice, Organic Coconut Oil, Emulsifying Wax NF, Kosher Vegetable Glycerin, Witch Hazel, Vitamin E), Palm Stearic Acid, Jojoba Oil, Lecithin, Polysaccharide Gum, Mannan, Salix Nigra (Black Willom Bark) Extract, Neem Oil, Rosemary, Citric Acid, Zinc Oxide, Titanium Dioxide, 100% pure Essential Oils
The Skinny:
8 oz pump-style bottle retails for $14.99
Available in a variety of scents (9 scents) from SFRbeauty.
Active SPF ingredients: Titanium Dioxide and Zinc Oxide
Free of Mineral Oils, Parabens, synthetics, petroleum, and SLS (Sodium Lauryl Sulphate)
If you are looking to explore natural skincare products for exfoliation and light body moisturization (with SPF!), MoonEssence is certainly a line worth checking out. I especially think the Organic Sugar scrub is fabulous (and have pretty much fallen in love with it's Lavender Rose scent!).
When you are looking for new products, do you like to check out natural lines first? While I don't always use natural products, I think it is great to explore natural product options! I have really found some great products when exploring natural product and makeup lines!