This time of year, I always want a bit more color. Since I really don't "tan", I rely on self-tanners and bronzers to get my color. I really have not had much luck with self-tanners on my face. So, I stick to self-tanners for the body and bronzers for the face! Our face and body must match, right?!?!
I literally swooned when I saw this
POP beauty Butterfly Bronzeblush Bronze
& Blush Palette and Kabuki set in this month's Ulta mailer. It is a HUGE split pan blush/bronzer duo. The design in the powders is actually a butterfly pattern. So pretty! Nothing says Spring/Summer more than butterflies!
Not to mention, this Bronzeblush palette is HUGE! I don't know why, but I always feel that blush and bronzer products should be on the "big" side. Anyone else with me on that? I think I feel that way because I prefer a larger brush for blush and bronzer. This way it fits better in the pan and you get a ton of product!
For more about
POP's Bronzeblush Palette and Double Duty Kabuki
, please keep on reading!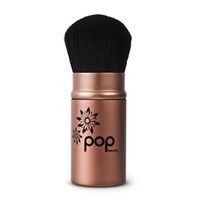 Double Duty Kabuki
:
I think a good retractable kabuki is an item that all women should carry in their purse! I know that I don't leave home without one. A great retractable face brush is so handy to have on you for powder, blush, and bronzer touch ups throughout the day. Most of the time my makeup doesn't need refreshing. But, for those times that it does, nothing beats powder application with a great brush!
So, with that said, my other retractable kabuki brush by ecotools lives in my purse. I love that kabuki. But, it is always in my purse and not on my vanity. So, I got the POP beauty Double Duty Kabuki with the idea in mind that it would "live on my vanity".
How do they compare?
Just for the sake of comparison, lets look into the similarities and subtle differences in these two kabuki brushes. I am going to start by saying that they are almost identical in size, shape, and softness. Both brushes are made of synthetic hairs. The ecotools brush is ever-so-slightly softer. But, they are both very soft brushes indeed. They retract in exactly the same manner and are both in metal-type containers. The retraction of the POP beauty brush is ever-so-slightly smoother. The biggest differences are the prices and the colors. POP beauty's is a little more expensive at $15.00 (but check for sales, I think at one point the Blushbronzer palette and the Kabuki were available for $15.00 total). The ecotools sells for about $9.00.
Back to the
Double Duty Kabuki
!
I love the bronze color of the tube! It makes me *want* to apply bronzer with it, lol! As I mentioned with my comparison above, the bristles are super soft! Also, the bristles are nicely dense and rounded. It fits perfectly into the Butterfly Bronzeblush pans and is the ideal size for my cheeks for blush and bronzer/contour. I really love this brush!
The
Bronzeblush Bronze & Blush Palette in "Sunblossom"
:
Oh how I love this palette! So pretty and natural!!! The blush and bronzer are both very soft in texture and nicely pigmented! Actually, they are so soft in texture that I just lightly tap my brush on the product, tap off excess, and apply!
The Palette Itself:
For size reference, it's diameter is about 4 inches. I mean, really...it is huge! The palette compact is black with pretty bronze flowers on it. The inside reveals a full sized mirror.
The Bronzer:
The bronzer has some very very subtle shimmer in it. It has 3 shades that when swirled together create a lovely bronze glow. I find that these shades wear incredibly well and look very natural on my fair skin. Yes, this is a bronzer that will get you those great "you look healthy/rested" compliments! This had become my go-to bronzer of late!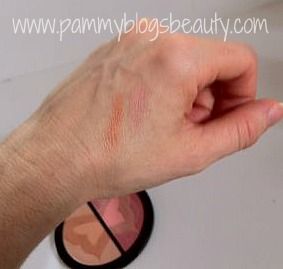 The Blush
:
If you are a regular reader of my blog, you know that I adore blush. This pretty blush is no exception! It contains 3 shades that when swirled together create a lovely rosey pink. It is very slightly shimmery. So pretty!
This Butterfly Bronzeblush palette retails for about $14.00 at Ulta. I find the pigmentation and lasting power of the blush and bronzer to be really good.
Using this
Butterfly Blush & Bronzer palette in Sunblossom
and the
Double Duty Kabuki
have become part of my daily routine this past month! Honestly, I don't even have to think about it. I just grab this big compact and apply them almost every day. Also, funny, I am wearing bronzer more thi way! Typically, when I am in a hurry, I just grab blush, apply quickly, and rush to finish the rest of my makeup. Using a blush bronzer duo, I always wear blush AND bronzer. Perfect!
The colors in this Butterfly Blush & Bronzer Palette are great for summer. Super wearable and naturally pretty.