Hello ladies!
While I love reviewing innovative skincare and fun new makeup shades. But, sometimes it is the "basic" products that really impress me. I mean...gosh, we all need to shave our legs, right? So, we might as well shave with great razors and yummy scented shave gels.
Typically, I shave my legs during my morning showers. So, that means I am usually in a hurry during my shaving routine. I need shave gels that moisturize and protect and razors that don't nick my skin.
For this review, I tested out Skintimate's Shave Gels in their Signature Scents as well as three different types of Schick razors: The Schick Quattrro, The Schick Quattro TrimStyle, and the Schick Intuition.
My Shaving "Background":
I must shave my legs *every day* (I know, ugh!). I do this because of my dermatologists orders! I get ingrown hairs. So, I must shave frequently before the hair becomes ingrown. With that said, I go through shave gel and razors pretty quickly. So, I tend to go for affordable lines and products that reduce irritation.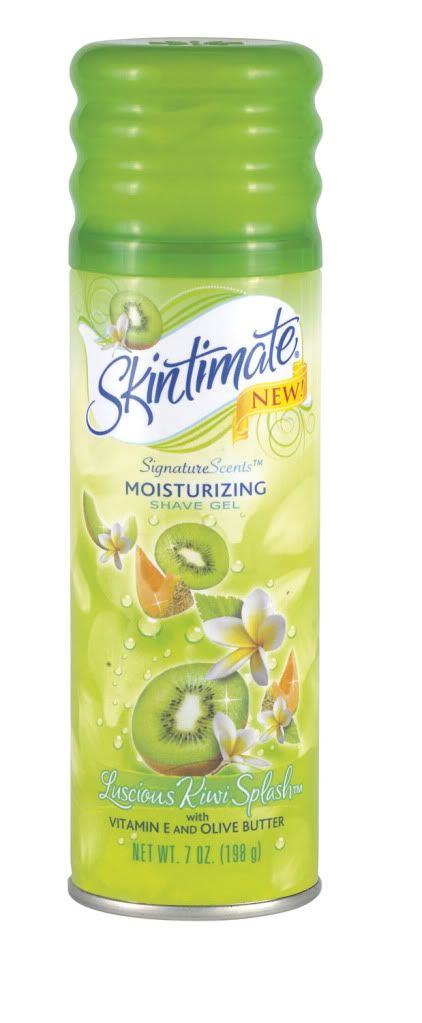 Skintimate Shave Gel: Signature Scents
I have used
Skintimate Shave Gels
off an on over the years. I must say, this is a brand that I always return to for affordable and effective shave gel.
These shave gels come in six scents: Luscious Kiwi Splash, Jasmine Meadows, Flirty Mango, Strawberry Tangerine Twist, Tropical Splash, and Raspberry Rain. The scents are all very fruity and refreshing and contain a mixture of olive butter, Vit E, and Pro-Vitamin B5. Upon application, the shave gel turns into a very thick and dense foam lather.
These shave gels moisturized and prepped my skin very well for a smooth shave. I just wet my legs and then apply a generous portion of shave gel. The foam adheres well to your legs and lets you see exactly where your razor has been (does that make sense? you won't go over the same area twice). These shave gels work great!
Plus, I love that these shave gels are available everywhere and cost less than $3.00 for a 7 oz can.
Schick Quattro: Disposable Razors
These Quattro razors are amongst the best disposable razors that I have tried! I did not get a single nick in my skin the entire time that I used these! That says a lot for my little klutzy self who probably needs to slow down a bit when shaving!
I think the key to this razor's performance is the pivoting head on the razor as well as the quadruple blade. It really glides right along with the contours of your legs. It gives a great close shave! Also, these razors have a formidable feel. They are comfortable to hold and honestly don't feel like a disposable razor. Very nice quality! A 3-pack retails for about $8.99.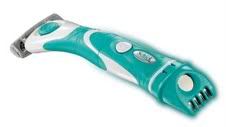 Schick Quattro TrimStyle:
Now, this product is unique! It is the standard Quattro razor (which I adore) with a twist: A waterproof battery-powered trimmer is on the opposite end! So, why the need for an additional trimmer? Well, this allows you to shave your legs *and* trim your bikini line with one tool! My shower is tiny. So, I love a good space saver.
Since I just talked about the Quattro above, lets discuss the trimmer! It's small size is ideal for the bikini area. It has a comb that can be adjusted to three different length settings depending on your personal preference. I found this to be easy to operate and adjust. It is not the sharpest trimmer ever. But, it does the job. These retail for about $10.99.
Schick Intuition Razor:
This was my first time trying out this type of razor! The Intuition is totally different than any other razor that I have tried as it completely eliminates the need for shave gel! So, how does this work?
The blade head is surrounded by a skin moisturizing solid bar. The bar contains skin nourishing ingredients like shea butter and vitamin E. So, you can soothe your legs while you shave...without any shave gel.
So, how did I like it? Honestly, I think I prefer using the old-fashioned method the best (shave gel and then a typical razor). I feel like when you apply shave gel first, it gives it a chance to "sink in" and soften your skin for a closer shave. With the Intuition, you are applying the "lotion" (the moisturizing bar surrounding the razor)and the razor at the same time.
But, I will continue to use this Intuition razor when I am in an extra *big hurry* in the mornings as it does eliminate one step of the shaving process which allows for an overall quicker shave. Also, I think that this Intuition razor would work great for quickie "touch up" shaves. So, it is just a matter of personal preference.
These razors are available for about $9.00 retail for the razor, with refills ranging from $9.99 for a 3 pack to $17.50 for a 6 pack.
Overall, I am very pleased with the offerings from Schick and Skintimate for shaving. I have already repurchased the shave gel and will likely repurchase the Quattro when I need a new one!
Stay beautiful ya'll!
XOXO!