The designers were paired up and the challenge was to design runway looks inspired by the same birds that inspired L'Oreal's Colors Take Flight Collection: The Raven, The Owl, The Cockatoo, and the Amazon. Each look has a corresponding eye shadow quad, a lipstick, a blush, and two nail colors. The shadows are all bold and dramatic and perfect for Fall.
Now, I must say, Project Runway is one of my very favorite shows. So, combine that AND my love of makeup...Well, I knew that I just had to run out to my local drugstores and scope out the collection. The runway looks created with these cosmetics were just beautiful! I was especially inspired by the winning design and the corresponding makeup used for "the Raven" look.
L'Oreal's "Colors Take Flight" Project Runway Inspired Fall 2011 Collection: The Raven
Not only was the Raven the winning look and also my favorite design of the show, but the corresponding Raven makeup collection is just right up my alley! While I don't wear smoky eyes on a daily basis, it is my go-to look for going out (Hey, my Hub thinks Smokey Eyes are sexy, so I am all for it!)
I love the shadows featured in this collection because they are smoky eyes with a twist: A Purple Smoky Eye! So current! I also love that when you purchase the corresponding blush and lipstick, you are going to get a very well coordinated look.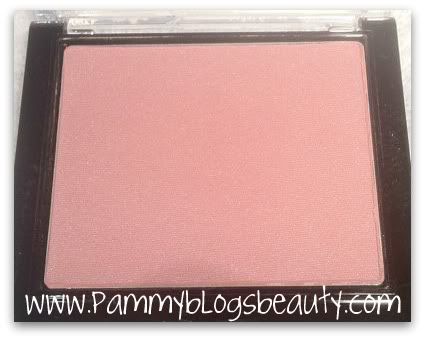 The Blush:
Sultry Raven's Blush #725 ($9.99)
Ah! What a pretty blush! The eye look in this collection is so dramatic that you are going to want an understated blush. And, that is exactly what you will get with the Sultry Raven's Blush.
This is a beautiful neutral-nude pink with iridescent micro shimmer. It does not look glittery on the face, just luminous (see swatch below). On my super pale (MAC NC15) skin, it gave me subtle definition and color. But, it might not show up much on darker skin tones. I think it would look lovely paired with any strong smokey eye on fair-skinned girls.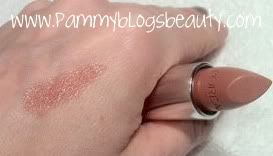 The Lipstick:
Sultry Raven's Pout #785: ($8.99)
I think I have finally found my *perfect* nude lipstick! Nudes are tricky on fair skin because you don't want to go "too nude" or it washes you out or makes you look just..."dead". Well, this one is perfect!
On me it wears as a nude/neutral beige-ish peach. There is a slightly glossy finish (not matte) with no shimmer nor sparkle. It wears very nicely and keeps your lips moist. And, yes, I have found my perfect nude! I better stock up since this is limited edition!!!
The Eyeshadow Quad
Sultry Raven's Gaze #715 ($8.99)
What gorgeous colors!!! I am just going to go ahead and start out by saying that I am just amazed at the pigmentation! You are getting high-end quality here. Deep pigmentation and rich complex colors! I am thrilled with this quad. What a beautiful twist on the smoky eye! Plus, I love a good pop of silver with any smokey eye. It really brings on the drama.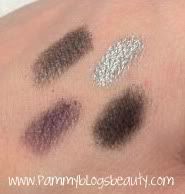 You can see how pigmented these colors are by the swatches!
Top left: Gray/Gunmetal shade that is a duo chrome color: it flashes purple. Beautiful pink/purple/metallic shimmer. Very nice!
Top right: True deep silver metallic. Can't believe this is a drugstore shadow! This is one of the best silvers in my makeup collection (high end or drugstore!). Major metallic finish.
Bottom left: Deep purple. This color is the reason I went for this palette! Yes, I have a ton of smokey eye quads but none of them have a rich purple! This gorgeous color is a deep purple that flashes a blue duo chrome with pink and blue micro glitter.
Bottom right: The smokey eye quad is complete with this nice rich black. Good pigmentation. It is a matte black with silver micro glitter.
Not only are the shades in this Raven collection rich in pigment and of great quality, but all the hues are extremely wearable! I am just thrilled with the pigmentation of the eye shadows, the subtle beauty of the blush, and the everyday wear ability of what seems to be my ideal nude lippie. I am thrilled with my purchases!
While the displays at my local drugstores are pretty picked over, I think I am still going to have to go back to see if I can find some of the other blushes.
Any other Project Runway fans out there? Who do you think will win it this season? My favorites are the gorgeous Anya (love her personal style!) and the uber-talented Viktor. If you haven't had a chance to see the episode, you can check it out online:
Project Runway
.
Here's to hoping that L'Oreal comes out with more Project Runway inspired collections! It was so fun testing this out after watching the show! :)