Hello my dear readers!
It is time for another skincare review! As much as I love wearing, testing, and reviewing makeup (can you tell, lol!), I must say one of my first loves is skincare. We all know that a good skincare routine is the foundation of a good beauty routine.
Reviewing skincare is a lengthy process. I test out skincare items for an extended period of time to see results, check for skin sensitivities and reactions, and to just get a good feel for what it is like to really use the product. Because of my sensitive skin, I add new products in one-by-one to better evaluate them. I just love diving into a new line to discover what they have to offer. Product testing is very fun for me! The experience is even better when I discover a wonderful brand like OSEA.
OSEA Skincare:
OSEA
(Ocean. Sun. Earth. Atmosphere.) strives to create quality products that are both pure and effective. OSEA's ocean themed brand is infused with organic and marine-based ingredients. These luxury products evoke a spa-like experience. As a perennial lover of the ocean, this eco-friendly brand's image and feel are very appealing.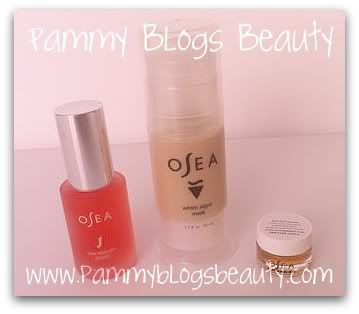 My Skin Background
My skin is normal-dry this time of year (warm weather). But, it gets very dry in the colder weather. I have sensitive skin and am prone to allergies. Generally, I do not break out very often. But, I do have a history of being acne prone. While I do not have any major lines or wrinkles, I am interested in age prevention as I am in my 30s. When my skin gets very dehydrated, very fine lines emerge in my eye area. My primary skin concern is my difficulty with very dark under-eye circles.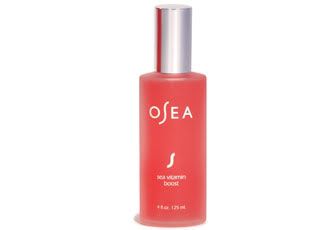 Sea Vitamin Boost:
This product is a lightweight hydrating toner/refresher that gives your skin an anti-aging and hydrating boost!
The Skinny:
100% Naturally derived ingredients
4 oz bottle retails for $32.00.
Contains red wine extracts and pomegranate which provide the lovely rosy color of the product.
Key Anti-aging Ingredients: Gigartina Algae, an ingredient rich in sea minerals, stimulates cell regeneration and balances oil production. Red wine extracts (the antioxidant resveratrol) contain anti-viral/anti-fungal properties and protect the skin from cell damage. Pomegranate improves skin's tone and can boost collagen.
Packaged beautifully in a frosted glass spray bottle with a silver cap. The aesthetic of the bottle is very modern and sleek.
My experience with this product:
I apply this product after cleansing my face. I spray a little bit onto my hands and then pat it onto my face. You can also spray this directly onto your face. The spray mist is very fine and evenly distributes. When I use during the day for a hydrating boost, I spray it directly on my face. This product has a very light scent (it is so light that it is barely detectable). I can't quite place the scent. But, it is nice. This mist feels very good going on. I did not experience any irritation from this product. I really enjoy using this product!
Tip: Keep this product in your refrigerator or cooler (if you are at the beach or pool) for a cool and refreshing hydrating mist throughout the day. You can also keep this bottle in your purse for mid day touch ups and instant hydration. Another use: Use as a setting spray for your makeup! A great way to get an extra anti-aging boost.
Eye Gel Serum:
This is a gel/serum to firm the eye area and to reduce fine lines, puffiness, and dark circles. Note: This is not an eye cream, but an eye treatment product.
The Skinny:
Retails for $60.00 for .6 oz. pump style container. Note: I did not test the pump, but a sample jar. So, I can not evaluate the effectiveness of the pump.
Key Ingredients: Red wine extract (the antioxidant resveratrol), Gigartina sea algae, marine extracts, and chronoline (a peptide).
99.2% Naturally derived ingredients
My experience with this product:
As I mentioned above, this is not an eye cream, but a treatment product. So, this will not provide moisture for a dry eye area. This clear amber colored serum has a sticky and somewhat thick gel-like consistency. I used this product layered underneath other eye creams. I did use a few times on its own, but it did not provide enough moisture for me (and honestly, I didn't expect it to). So, typically I apply this gel after cleansing and before eye cream. I give the product a few minutes to sink in before applying cream on top. I consider eye serums to be products to give your basic eye cream a "boost" of effective ingredients. I think if you used this expecting moisture, you would be disappointed. But, when used in conjunction with an eye cream, this product is a great way to give your eye area an anti-aging boost. I found that this product firmed the eye area (I could almost feel a "tightening" effect) and did very slightly diminish the darkness of my under eye circles. The sample I had was quite small, so I only tested this product for a few weeks. The results might be greater when you use for a longer period of time.
White Algae Mask:
I saved my favorite product for last! This mask is for dry and sensitive skin (perfect for me!). It provides hydration, tightening, and it soothes out any irritation.
The Skinny:
Retails for $48 for 1.7 oz.
Comes in a cool plastic pump bottle. LOVE this pump canister! It pumps out the perfect amount of product! I love that it is clear and you can see exactly how much product you have left. The container is very sanitary and air tight. Its air tight seal helps to preserve the product (Which is so important! Especially when a product is this expensive and you want it to last a long time).
Key Ingredients: White algae, copper, manganese, zinc peptides, white wine extract, and white tea.
My experience with this product:
Oh how I love this mask! It seems that most masks on the market are either tightening, exfoliating, and purifying OR hydrating. This mask is miraculously a combination of both! It tightens and purifies your skin while also hydrating and soothing. Genius! I apply this mask a couple times a week after cleansing. I just apply a thin layer all over my face avoiding the eyes and hairline. The mask dries on skin but does not get super tight. This provides a nice tightening and exfoliating effect. But, it also leaves skin very hydrated and soothed. This is truly the ideal mask for sensitive skin. It is honestly a total pleasure and treat to use this effective mask! Even as I write this I am mentally planning on using this mask tonight. This is such a nice way to give yourself a spa-like treatment at home.
In summary, I really enjoyed testing out this OSEA line! My clear favorite is the White Algae Mask. I would love to try more from this line! OSEA carries two other masks that I think look great too! The Red Algae Mask contains antioxidants and helps heal breakouts and the Black Algae Mask provides intense exfoliation. Curious as to what works for your skin type? Check out
OSEA's website
, as it generates product recommendations based on skin type. Also, this site offers travel sets with travel sized products for you to try out without having to pay the full sized product price.