Hello dolls!
Are you familiar with
Beauty Without Cruelty
(BWC) products? I am here today with a brand introduction as well as a
BWC Nail Colour
and
BWC Sensuous Mineral Shadow review
. IF you have not noticed this brand yet, be sure to take a peek into your local natural foods store or co-op for these beautifully packaged cosmetics!
Brand Overview:
Beauty Without Cruelty
or
BWC
is a cruelty-free natural skincare and cosmetics company. You can find these cosmetics online as well as at your local health food or natural foods store. This company was originated in England in 1963 and was a front-runner in the innovation of cruelty-free products. BWC has been available in the US since 1989.
BWC offers cruelty-free and vegetarian products for skin, body, and hair as well as an entire line of color cosmetics. I know that purchasing natural and cruelty-free products is very important for many of my readers. So, know that when you are shopping with BWC you can rest assured that you are making your purchasing decisions with compassion. I have detailed the company's "Formulation Principals" below.
Beauty Without Cruelty's "Formulation Principals"
(source: adapted from the BWC promotional brochure):
Cruelty-free products: No animal testing
Vegetarian-Vegan Formulations (I am assuming that you should double check the labels to double check if it is Vegan and/or Vegetarian)
Complete Ingredients Disclosures
Organic Content is identified and fully disclosed
"CCIC": "Leaping Bunny" and Vegan Certifications (you will see these printed on the labels of the products)
Extensive selection of Gluten-Free products
No synthetic or engineered fragrances
Oshadhi Premium Organic Essential Oils for fragrancing
So, now on to the reviews! For reviews, photos, and swatches for the Nail Colour in "Heather Mist" and Mineral Shadow in "Intrigue", please keep reading after the jump
Beauty Without Cruelty Cosmetics
BWC products are available at
www.beautywithoutcruelty.com
and your local health food store.
First of all, I have to state how pretty this packaging is!!! The overall look is modern, yet artsy. The products feature decorative patterning of embedded swans that look like a swirl pattern. Very cool! These products are ones you would want to display on your vanity as they are so lovely!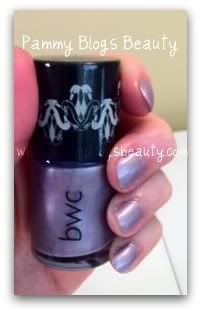 Beauty Without Cruelty (BWC): Heather Mist Nail Colour
This shade Heather Mist is such a lovely color!!! It is a metallic lavender. So pretty!!! Pastel colors are hot for spring and I just love wearing this color! I am really nuts about any shades of purple or lavender, so this polish shade is right up my alley with its beautiful lavender shade (and the fact that I am a nail-polish fanatic, lol!).
The Skinny:
The packaging is sleek and it features the artsy swan design on the cap. Very pretty to look at!
The website states that it is a quick dry formula and "chip proof". I did notice that this polish dried very quickly.
The applicator brush is dense and somewhat flat (like an oval)which allowed for a very smooth and quick application.
The formula is very pigmented and opaque. I only needed 2 coats for a perfect finish. It applies nicely and streak free!
As far as it being "chip proof", I found that it wears about as well as any other good quality polish. I had some slight chipping after 3 days (which is pretty typical for me with how "hard" I am on my nails).
Here are some more tid-bits about this polish:
Retails for $16.95 on the BWC website for .33 fl oz
Ingredients: Ethyl Acetate, Butyl Acetate, Nitrocellulose, Adipic Acid/Neopentyl,Glycol/Trimellitic Anhydride Copolymer, Isopropyl Alcohol,Trimethyl Pentadiol, Diisobutyrate, Triphenyl Phosphate, Butyl Alcohol, Stearalkonium Hectorite, Titanium Dioxide, Ferric Ferrocyanide, Red 6 Lake, Mica.
*note: I got some clarification from my contact at BWC: Since Polish is a "Lacquer-based" product, it does contain some chemical compounds, so these polishes are not a natural products. But, BWC adheres to polish standards set forth by the natural products industry. BWC polishes are phthalate, formaldehyde and toluene free. The smell of the BWC polish is the same as a typical drug-store or high-end nail polish, but there is a difference in ingredients. As a nail polish lover, it is nice to know that there are products available on the market (like these from BWC) that contain less harmful ingredients.
Overall, a big rave for this polish! These polishes are available in 16 shades and I would really love to try more!
Beauty Without Cruelty (BWC) Mineral Shadow:
Any mineral shadows fans out there? I know that there are so many brands of minerals out there, but these BWC Mineral Shadows are worth checking out!
BWC Sensuous Mineral Eyeshadows:
These are loose mineral shadows that come in a small jar with a screw top lid and a sifter. Each jar contains .05 oz of shadow.
Ingredients include: Mica, Black Iron Oxide, Titanium Dioxide.
No Artificial Coloring
Talc, Oil, Wax, & Fragrance free
Vegan/Vegetarian formula! No Animal Testing. :)
Made in the UK.
Retails for $24.95 each. They are available in 10 shades.
The shadows can be used wet or dry; When applied with wet brush, colors are much more intense. I, personally, like to apply them dry over a primer.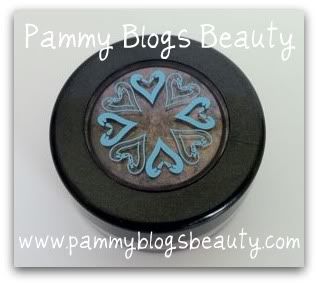 Beauty Without Cruelty (BWC) Sensuous Mineral Shadow "Intrigue":
Just like the Nail Colour, the packaging is so beautiful! I love the artsy swan design on the cap. The swan design looks like tiny hearts in a circle. very creative! It really makes this little jar of mineral shadow stand out amongst my other mineral shadows that have plainer packaging. LOVE the design of this one!
This shadow packs in *major* pigment! What a beautiful and unique color! It is a dark brownish-taupe with shimmer/sparkle. The color is so complex! It is a beautiful brownish-taupe shade that has a metallic copper sheen. In some lighting it almost looks purplish-brown on my lids. What a dimensional and unique shade! I especially like wearing it on the "outer V" and crease. It is a very flattering color!
It applies beautifully and blends well. I like this applied with a small pencil brush along the upper lash line and to the "outer V" and with a fluffy crease brush through the crease. This shade gives beautiful depth and dimension to my eyes. The color itself really makes my blue eyes pop! It wears well all day with no problem!
I love it!!!
In summary, I am totally impressed with Beauty Without Cruelty products. I admire their environmentally concious ethics and their strive to create safer products. Yes, these products are expensive. But, at least you know that they are putting quality ingredients in the products that are safe and cruelty free. Plus, I am sure that you can find some deals or sales online.
I know that I would really like to explore this brand more as I love both the mineral shadow and the Nail Colour!
I hope you enjoyed reading this review! Stay beautiful my dears!