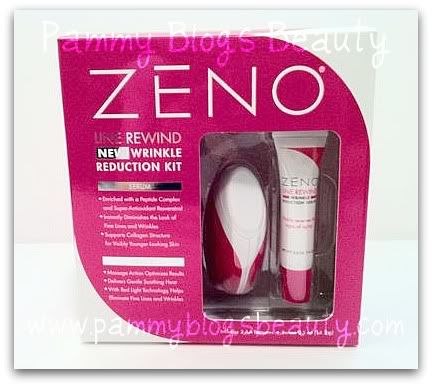 Hello my lovely readers! I have a "first impressions" review for you today! :)
I was recently scent the Zeno Line Rewind Wrinkle Reduction Kit by BeautyStat.com for a first-impressions video contest. The idea was to test it out for two weeks, do a video of my honest opinion, and to submit it to BeautyStat for a chance to win a gift certificate. I honestly had not seen this item yet, but was curious to try it out!
Granted, I do not have any major lines yet (just *barely* some fine lines when my skin is very dry or dehydrated). But, that seems to be exactly what this device is supposed to target. Since beginning my test, I have seen this device available at Ulta for about $39.99 and it is also available online. I believe that you can buy the serum separately. The starter kit comes with the device plus a tube of the serum.
For my first-impressions, I had to test the product and device every night right after washing my face for 2 weeks in a row.
So, how did my test go? Did my barely noticeable lines get "rewinded"? Keep reading to find out!
The Zeno Line Rewind Wrinkle Reduction Kit
The Skinny:
Okay, I must admit, when I first saw this device, I immediately thought "okay, this is a gimmick". But, I was intrigued and upon further research, I realized that there might actually be something to this device.
There is actually documented evidence that "visible red light" technology is effective in reducing aging, decreasing inflammation, and helping your products to absorb deeper into your skin. Heat and massage can help stimulate blood circulation (make you look better/younger). Hmm, so there is more to this little device than meets the eye!
Does this device have that technology? I don't know, but it does have red lights and the kit states that you might see a reduction in fine lines especially in the crow-feet area. Now, I am sure that this Zeno device is not going to give you the result of the red-light type treatments that you could get from a powerful red light type treatment at the dermatologist. But, if you are interested in this sort of technology, the price is right at $39.99. Worth a shot!
The How-To:
Basically you apply the serum right after washing your face (serum goes first before moisturizers or treatment products) and then use device to smooth in. The device heats up, lights up, and vibrates while you glide it across your skin. You keep at it until all the serum absorbs which honestly only takes a few seconds. The serum absorbs very quickly, so you honestly have to work fast!
Now, when my skin is overly dry, I do have some very faint fine lines that appear by my eyes and some on my forehead. So, I generally targeted these areas with the device (per instructions).
The Device:
Interesting gadget: It heats up, lights up, and vibrates. Looks futuristic. LOL, is this what they used for wrinkles on the Jetsons? LOL! j/k
Turns on a bit too easily as I have accidentally turned it on while just picking it up.
Also, it took me FOREVER to figure out how to turn the darn thing off. LOL, can you imagine me with this crazy little light up vibrating device trying to turn it off! I knew that you had to click the "on" button twice, but you have to hit it just "right" to turn it off. Zeno definitely needs to work on the on/off button on this thing.
Now, I haven't experimented with this yet, but I suspect that you could use this device with other types of serums from other brands. Of course, check the ingredients to make sure that there are not any that would be inactivated or aggravated by the use of light or heat (example: Retinol gets deactivate with light).
Device Care and warnings:
As with any new skincare item, do a test patch first! There is a disclaimer on the package about it not being suitable for use for people who have reactions to the sun and heat. Also, it is not to be used if you have broken, irritated, or broken out skin. I am assuming that the heat could spread bacteria for breakouts.
Device can't be "washed", but must be cleaned with a wet cloth.
The Serum:
I like this serum. It contains skin-beneficial ingredients such as:

Antioxidants, Humectants, Silicones, polymers, mica, and some peptides. So, even in the absence of using the device, you get a good serum.
I find this tube to be surprisingly small! I use about 2 pea sized drops for my entire face. I expect that this tiny tube will run out of product very soon. I am not sure about the cost of a refill tube, but the cost could add up if you go through the tube quickly.

Texture: gel like serum. It's not super slippery or greasy. It is just like a very light and absorbent lotion. It feels slightly sticky going on. While this serum contains humectants, it is not a moisturizer, so you are going to need an additional moisturizer if you have dry skin.
My impressions and thoughts:
Wow, I will admit, I am surprised with how much I really liked this! I enjoyed using it and I do think that it is an effective product.
Gadget warms up but does not feel "hot". It feels nice and soothing on the face and it makes the product absorb very quickly.
I have not experienced any irritation at all with the use of the Zeno serum and Age Rewind device.
The device is super easy to use: Quick and easy!
Results:
While testing I have not used any other serums (not even during the day). I have tested the Zeno Line Rewind device and Serum every night for 2 weeks. I expect that this may not be enough time to see full results. Typically I test products for a bit longer, but because of the parameters of this contest, I am posting my two week impressions. Zeno states that the full benefits of the device can be seen in a month.
So how did my skin respond? During the course of my testing I did not experience any adverse reactions, even with my sensitive skin! No stinging, redness, peeling, nor itching. While my skin is sensitive, I had absolutely no trouble with this cream or device.
My skin has felt super soft and there is just the ever-so-slight reduction in fine lines. I mean, so slight that I might even be imagining it. But, honestly, that is hard to judge because I hardly have any anyway! Also, I do notice a "rosy glow" to my skin after using the device. No, not true redness (in an irritation sort of way) just a bit more "color". I think this is a result from the heat and some increased circulation. This "rosy" result is temporary and fades after a few minutes.
Downsides? The serum tube is rather small, so you might run out of product quickly and need to purchase frequent refills. Also, the device turns on a little too easily and is somewhat difficult to turn off. Also, you must keep cleaning the device with a damp cloth as you would not want bacteria to grow on a device that heats up. In addition, you can't use this device over any existing breakouts or on sun-sensitive skin.
In summary, I enjoyed using the Zeno Age Rewind system! I liked this cute little futuristic looking device (think "Jetsons", wink!) and the serum itself is very nice (great texture, good ingredients, good absorption). I am curious to see if it the device is useful with other serums. Also, for a "red light device" the price is not bad.I liked the relaxing feel of using the device to smooth in my serum. I really like my nighttime routine of washing my face. It is just relaxing for me. Using this device is a nice addition to an already enjoyable routine. It is an "extra step", but it doesn't take much time.
Thanks so much for reading! I hope that you all enjoyed this "first impressions" post! If you are interested in viewing my first impressions video, please visit my YouTube channel here: Zeno Age Rewind First Impressions Video Review.
LOL, I said "um" about 500 times in that short video! I am going to have to work on that! ;)
Thanks for reading and watching!!! Stay beautiful my dears! XOXO!