Affiliate Link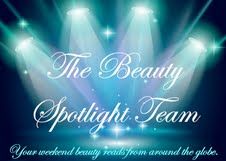 TANEJA'S BRIDE
- Are you as attracted by cute as I am? How about cute and beautiful with
Wet n Wild's spring highlighters
?
PRIME BEAUTY
- is welcoming Spring with a rosy glow courtesy of the
Pixi Beauty Hello Rose Set!
PHYRRA
- Have you heard of
Glossier
? My 5 favorite products might make you crave some.
PERILOUSLY PALE
- I demystify the new
Marc Jacob Beauty Liquid Lip Cremes
and I know you're going to want some.
PAMMY BLOGS BEAUTY
- Learn more about
Jay Manuel Beauty
and enter to win some beauties.
LOLA'S SECRET BEAUTY BLOG
- Learn what a beauty blogger
empties
in a month.
NEVER SAY DIE BEAUTY
- We all want skincare protection so read about
MyChelle's
newest and enter my giveaway to win one.
JUSTINA'S GEMS
- hair loss? I'm sharing what helped me after my child's birth. Learn how
Darshana
helps.
BLUSHING NOIR
- Ever wonder what
Binge Masking
is? Get to town on the newest ways to mask.
BEAUTY INFO ZONE
- Natural bath and body products are coming into their own and
Good Earth Beauty
creates some of the best. There's even a giveaway to help you learn first hand.
15 MINUTE BEAUTY
-
Maybelline Strobing Liquid
are the newest highlighters you can find. See which is right for you.
Affiliate Link