Affiliate Link
Press Sample
Summer is the time for longer days, relaxing by the pool or beach, warm sun, and glowing skin. The overall look is natural, healthy, and glowy with bronzed skin and flushed cheeks and lips. So, grab a cocktail, relax, and lets talk about this gorgeous Laura Mercier Summer 2016 Colour Story: Cocktail A' St. Tropez!
The
Laura Mercier Summer 2016 Colour Story: Cocktail A' St. Tropez
collection includes the gorgeous new Colour Dots Lip & Cheek Sheers, the new unique Bronzed Butter Face & Body Veil, the pretty Baked Blush Illumine. To find out more about how I liked these items and to see swatches, please click "read more" below!
Colour Dots Lip & Cheek Sheers:
What a fun product! The Colour Dots Lip & Cheek Sheers are a multi-use lip and cheek product in a chubby stick form. I love the texture of these for a lip butter. They are so hydrating and really melt right into your lips leaving a gorgeous sheer tint of color. These work great on the cheeks, too! I like to go much more natural with my makeup in the summer with less complicated eyes and focus my efforts on pops of color on the cheeks and lips. So, these are perfect! The Colour Dots Lip & Cheek Sheers are formulated with a luminous gel with a somewhat bouncy texture. The combination of wax, siliconic powder, and shiny emollients guarantees smooth control in application as well as skin softening and smoothing qualities. I just love the vibrant wash of color you can get with these! These sleekly packaged Lip & Cheek Sheers come in three shades: Sangria, Fruit Punch, and Tequila Sunrise. They are available for $32.00 each.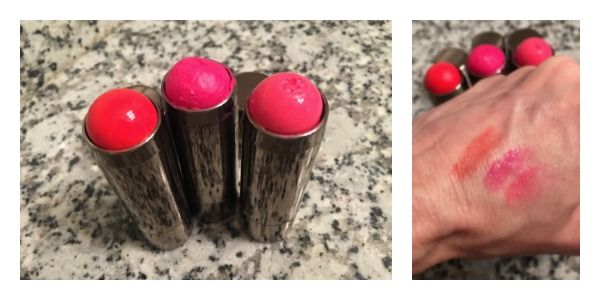 Bronzed Butter Face & Body Veil: OMG! This product smells amazing! It has this gorgeous summery and beachy scent. I literally have to smell this every time I open the compact, lol. This gorgeous and unique product is in the shade Gold Lust. The texture is so buttery and luxurious! It literally melts right into your skin giving it luminosity and nourishment. The formula contains nourishing vitamins and oils which leaves your skin so supple, nourished, and brightened. While it is a bronzed butter, the bronze-toned shimmer is quite light when you apply it. So, I use it more like a creamy highlighter rather than a bronzer. You can use it on your face and body: wherever you want a pretty shimmery bronzy glow. If you are looking for a unique Summery product treat, this is it! This product retails for $50.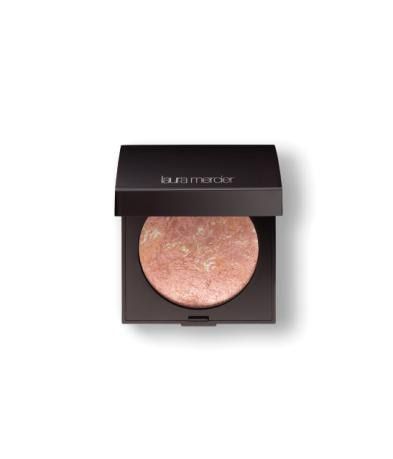 Baked Blush Illumine
: Ok, ya'll know me...I am a bit obsessed with blush. I must admit, blushes always draw me in. This Baked Blush Illumine in Rose is so flippin pretty! In the pan it is a swirly marbled multi-color and on the cheeks it applies as a shimmery medium rose. I tend to opt for brighter pinks and peaches. So, this tone is really a nice and refreshing switch from my usual go-to blush look. It is deeper and is just so pretty! The powder itself feels lightweight. However, it really is long wearing. It has a smooth and silky velvet texture. The color stays true on my skin and does not oxidize or change over time. It retails for $40.
Affiliate Link