Affiliate Link
Press Sample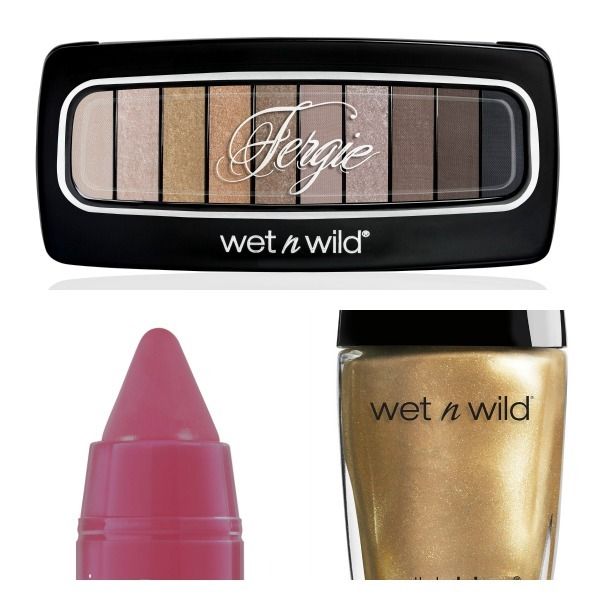 Hello my lovely readers! I am so excited to be sharing with you today details about the
NEW Fergie Collection items from Wet n' Wild
...and...I have a Giveaway for one reader to have an opportunity to win these same items from Wet n' Wild!
Wet n' Wild
has long been a go-to brand for me as far as drugstore cosmetics. Wet n' Wild has really stepped up their game in the past five years or so. Their eyeshadows are amongst the best available at the drugstore! This collection is actually my first introduction the the Fergie line from Wet n' Wild.
I tried out the Wet n' Wild
Fergie Centerstage Collection
10 Pan Palette, the Mega Slicks Balm Stain in Made You Pink, and the Wild Shine Nail Color in Ready to Propose. To find out more about all of these items as well as to enter the
Giveaway
, please click "read more" below!
Wet n' Wild Fergie Collection: Details and Giveaway!!!
Lets dive right in to some details about these items...
The Centerstage Collection 10 Pan Palette:
As a long-time fan of Wet n' Wild's regular collection of eyeshadows, I am super excited to try out this Limited Edition palette from Fergie! I am a neutrals-lover at heart. So, this palette of 10 pretty warm neutral shades appealed to me instantly. The shade selection in this palette is really nice. They go from a light golden vanilla shade all the way to dark chocolate and black. You can certainly create entire looks with this palette without having to reach for any additional shades. You get an assortment of finishes, too: some mattes and demi mattes (vanilla, medium brown, and black) to some satin shades (an assortment of tans and medium bronws), to some shimmery dark browns. This is a very well-rounded palette as far as assortment of shades and finishes. Plus, there is a brush included, too. I tend to reach for my other makeup brushes. However, this brush really is very decent (dual ended with a flat lid brush and a fluffy crease brush). The brush would certainly be useful in a pinch...or if you didn't have other brushes. Like all Wet n' Wild shadows, the buttery (almost creamy!) texture is absolutely fabulous and the pigmentation is very impressive! If you are a neutrals-lover like me, I highly recommend grabbing this palette while it is still available! I am kinda swooning for it! :) I like the light vanilla on the lid, with the shimmery taupe on the outer corners, the medium matte brown in the crease, and the dark chocolate color used wet as a liner. Such an easy look!

Mega Slicks Balm Stain in Made You Pink:
This is my first time trying out a Mega Slicks Balm Stain...and I must say, "Where have these been all my life"! lol! They glide on smoothly, hydrate, leave you slightly glossy, and give fabulous color. The shade "Made You Pink" is a lovely your-lips-but-brighter shade of pink. I especially love the stain of this shade that is left behind when the glossiness wears off. I am so impressed with this Balm Stain (especially for the price, wow!).
Wild Shine Nail Color in Ready to Propose:
Gold polish lovers, here is a pretty antique gold metallic polish for you! While I will fully admit that I am not a big wearer of gold, this particular shade really does appeal to me. It is not a bright gold, but rather a somewhat muted antique gold shade. I think this will be particularly pretty to wear this Summer!
Giveaway:
So, now on to the Giveaway!!!
The Prize:
One winner will receive the
Fergie Centerstage Collection 10 Pan Palette
, the
Mega Slicks Balm Stain in Made You Pink
, and the
Wild Shine Nail Color in Ready to Propose
.
To Enter and Rules:
To enter, please use the Rafflecopter form below. Please note that this prize is provided by
Wet n' Wild.
USA only. Giveaway ends on
3/13
/15. Please see other rules as listed on Giveaway form.
Enter Here:
a Rafflecopter giveaway
Affiliate Link