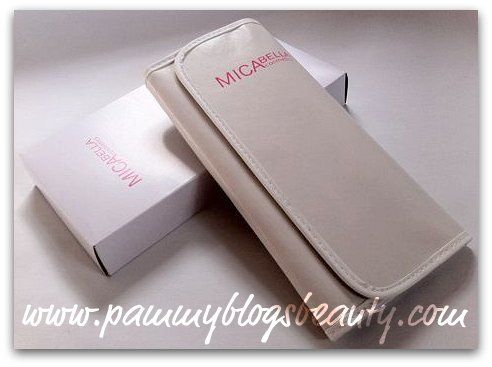 It has been quite awhile since I have reviewed brushes! Which is funny because I use cosmetic brushes every single day. Good application is really dependent upon good tools! Sometimes the best tools are your fingers. But, mostly I rely on brushes for good application. I think that every girl should consider investing in a good brush set.
I am somewhat picky about my brushes. It doesn't matter to me if the brush is low or high end. I just want my brushes to be soft, have a nice shape for their purpose, to wash well without shedding, and hold up well over time.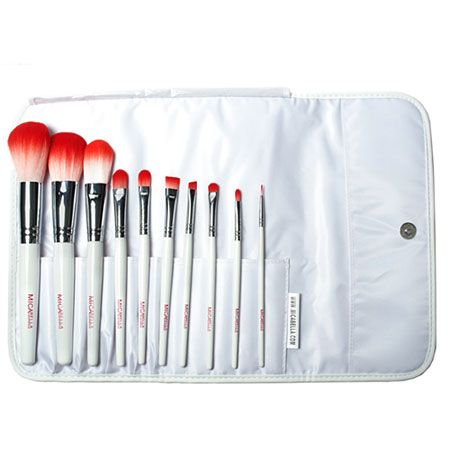 The Brush Set: The Scoop
This brush set contains 10 full sized brushes and one brush roll. These Mica Bella brushes are 100% synthetic. The brushes are not labeled for type nor numbered for reference. But, you can pretty much figure out what each brush can be used for based on the size and the shape. This set retails for $79.99.
White Brushes!
The brush roll and brush handles are white. The brush hairs are white tipped with pink. There is just something so appealing about white brushes! They just seem so "clean". :) Plus, with the pink dip dyed tips, these brushes are cute (and cute is a big thing with me!). I hate to admit, but I just do not clean my brushes nearly as often as I should. Using a white brush really forces me to clean it more. For me, this is a good thing!
The Softness and Quality:
These brushes are so super soft! I would compare their softness to ecotools brushes for reference. Really, the softness is just amazing. The brushes are professional quality too. You can tell when you hold the brushes that the handles have "weight" to them. Good solid construction. While I have not had these long, it seems like they will hold up well for the long term.
The Assortment:
I will describe these the best that I can considering that they are not labeled nor numbered. In this kit you get: a nice quality white pleather folding brush holder (magnetic snap closure), a mid sized fluffy powder brush, a mid sized blush brush, a smaller blush (or highlighter?) fluffy brush, 2 flat rounded head concealer-type brushes (one is a bit bigger than the other: these are possibly my favorites in this kit!), an angled eye liner brush (nice stiff hairs for precise gel lining), a small thin eyeliner brush (another great one for gels if you prefer this type of shape, it reminds me a lot of the shape of my Sigma liner brush), flat top brush (lining or shadow along lash line? I really don't use these types of brushes much. What do ya'll do with a flat top brush?), a thin lip brush (this is nice, I currently only had one other lip brush in my collection. So, I am happy to have this!), and a small flat shadow brush (this might be nice for some detail work on the lids).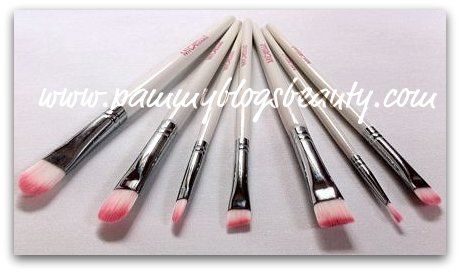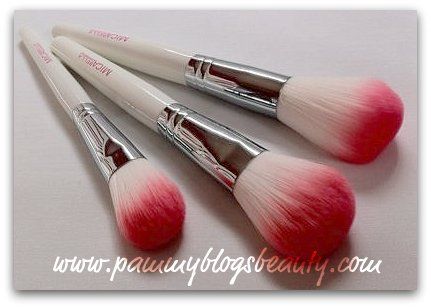 This certainly is a good brush set. My biggest critique about this set is that it is not comprehensive. You are going to need a few other brushes to complete your collection. So, if you are planning to purchase this set as a starter brush set, just know that you are going to need to add a few more brushes like a fluffy shadow brush and a crease brush. But, this set will give you some very nice options for powder, blush, lining, and concealer brushes.
I think the flat concealer type brushes are especially nice. I love that there are two included. These are already in heavy rotation in my brush collection. I, for one, always need multiple concealer brushes. I feel that since concealer brushes come in close contact with the eye, you must always have a clean and dry one on hand.
If you are looking for a professional quality synthetic brush set, this Mica Bella Cosmetics set from
SFRbeauty
can be a nice option for you.