Every other Wednesday, the
Metro Atlanta Beauty Bloggers
will answer a beauty-related question just for fun! This week's question is...
Quick! You only have time to apply one makeup item before running out of the house.. What is it?
OMG! This would be my worst nightmare, lol!!! Believe me, I do whatever I can to do my makeup quickly. In a pinch, I could easily slap on even 3-5 items quickly. However, this is a fun hypothetical questions. So, if absolutely forced to chose *just one thing*, I would have to go with a concealer.
Why a concealer? Well, my #1 beauty "issue" is dark circles. I am absolutely plagued by deep and dark under eye circles. Honestly ya'll, they are so bad that I practically look like I have two black eyes! Why are they so bad? Well, I have dark circles because of allergies, lack of sleep, and hereditary. So, I am pretty much doomed to have them no matter what fabulous eye cream that I use (and even if I catch up on sleep). There is no question that erasing these with a great concealer has a major impact on my appearance. My love of makeup actually stems from the transformation that I feel when I cover up my dark circles.
If my dark circles were not as bad as they are, I would choose a tinted lip balm as my one item. My lips are pretty dry (especially this time of year). A lip balm is essential! I just can't even stand the feeling of dry lips! A tinted lip balm would give both moisture and color. So, tinted lip balm is a great choice! However, I almost always apply lip products on-the-go. So, even if I was running late. Chances are that a lip balm is already tucked into my purse and/or diaper bag.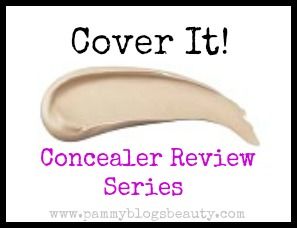 Catching Up with my Cover It! Concealer Review Series:
Do you have dark circles, too? Be sure to check out my ongoing Cover It! Concealer Review Series!!! As you can imagine (with dark circles as bad as mine are), finding great concealers is pretty much my lifetime quest makeup-wise. So, be sure to tune into my concealer review blog series!
Here is my
Cover It! Concealer Review Series Intro Post
. Here is my most recent concealer review:
Make Up For Ever's HD Concealer
.
Be sure to check out the other Metro Atlanta Beauty Bloggers' answers for this weekly question. These ladies are fabulous and sweet! The longer that I am a member of this group, the happier I am to be a part of it! It has been so nice to be able to meet and connect with other beauty bloggers on a local level.
Emma
from
Manicurity
Harri
from
TrailerHood Chic
Mandy
from
MandysSecrets
Missy
from
Gnarly Gnails
Pam
from
Pammy Blogs Beauty
Quinn
from
Mama Fashionista
SiSi
from
SiSi Sparkles
If you would like to see previous questions and answers, you can do so by viewing the
Question Archive
here
.
If you're a beauty blogger in the Metro Atlanta area and would like to join us, please visit our website! We would love to connect with you!