Every other Wednesday, the
Metro Atlanta Beauty Bloggers
will answer a beauty-related question just for fun! This week's ques tion is...
What is the one product/trend you just can't stand?
This is a great question!
As my regular readers know, I mostly write about items and products that I love as that is what inspires me to blog in the first place. Sure, there are products that I don't love as much. However, I try to be as objective as possible about these items. Rarely, if ever, will you read a review on this blog in which I totally slam a product. It is just not my style! Sure, there are some not-so-great items. I will always be honest with you guys. I just try to reflect any negatives in a gentle and objective manner.
When I am seeking out products to test out, review, and feature, I do my research. I tend to go for products that I truly think that I might like no matter if I purchase them myself or receive them from PR for review. I think a little bit of work on the front end delivers the result of a good product match.
I approach product testing and blogging with the same attitude that I embrace as I approach life: as an eternal optimist that always tries to see the bright side of things. To some, my positive personality may be a fault. For me, well, it is just "me". People sometimes tell me that I am "too nice" or a bit of a "goody-goody". When it comes to my outlook, I am certainly the polar opposite of negative.
Okay, sorry, I digress! I am sure that I am way over-thinking and over-analyzing. :) I didn't mean to get all introspective on ya'll. However, it is nice to blog about my deeper thoughts for a change. Makeup and Products are just "fun" for me...brain candy, if you will. Writing about beauty is just fun for me. However, I do have a deeper side!
So, back to the question at hand! This question is a fun challenge for me! I am literally sitting here racking my brain trying to think of beauty products and trends that I do not like. This is hard! I am literally scratching my head here! With that said, I do love to challenge myself.
"Can't Stand" seems like such a strong term for me. It seems as if there are products that are great for others but might not personally fit my style. Also, there certainly are products in which the color, texture, scent, or application does not work for me.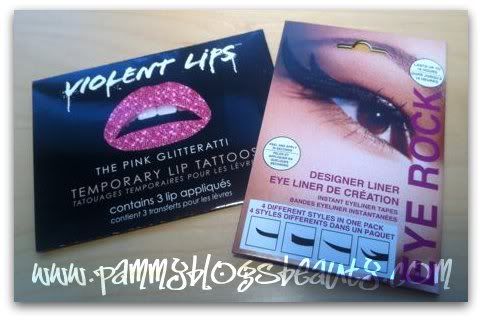 Makeup Stickers: Not for Me!
After this long intro, I think I have finally come up with something! I am not a fan of "sticker makeup"! Have you seen these makeup stickers? Lip Color and Eyeliner stickers. While the idea is novel the reality is that they just do not feel good on nor look in the least bit natural. Granted, a natural look is not really the idea with these products anyways! These are certainly "costume" type items.
Ya'll may remember that I actually reviewed some makeup stickers for Birchbox? They sent me the
Eye Rock Eyeliner Stickers and the Violent Lips lipstick tattoo stickers
. If you missed my full review of these items, be sure to click the link to check it out! Especially to illustrate that while I do tend to write primarily about products that I love, occasionally I do write about products that did not work out for me.
I want to know what you guys think! Have you ever tried makeup stickers? Did they work out for you?
Are there any products or trends that you either do not like or just can't get into?
- - - - - * - - - - -
Be sure to check out the other Metro Atlanta Beauty Bloggers' answers!
Ashley Elizabeth
from
Ashley Elizabeth's Beauty Blog
Emma
from
Manicurity
Harri
from
TrailerHood Chic
Mandy
from
MandysSecrets
Missy
from
Gnarly Gnails
Pam
from
Pammy Blogs Beauty
Quinn
from
Mama Fashionista
If you would like to see previous questions and answers, you can do so by viewing the
Question Archive
here
.
If you're a beauty blogger in the Metro Atlanta area and would like to join us, please visit our website! We would love to connect with you!